For those of you who had been following my updates (most especially after the NYFW / MBFW) you would have spotted my outfit of the day sporting a chic and demure look. On my post titled "Preppy" I have chosen to wear the Sadie Necklace by Visible Interest – which I am thrilled to share more about …
Visible Interest is an online boutique featuring hand-curated collection of decidedly modern jewelry created by independent jewelry designers. Each piece featured in their boutique caters to every shopper's need for an everyday wear to a once in a lifetime event. Visible Interest love all things modern in design and attitude providing jewelry that covets the charm of individuality.
Owning a timeless and unique jewelry had just been made easier …
PIN IT!
PIN IT!
PIN IT!
As far as the packaging, the necklace came in a well protected packet guaranteeing that the merchandise will arrive safely and in one piece. The pendant "arrowhead" of the Sadie Necklace is made out of stone and I am truly impressed with the company's careful handling. Check out how the product look after taking it out of the packaging …
PIN IT!
What is the Sadie Necklace made of?
» Gold plate Citrine Arrowhead Pendant on Gold plate Brass chain.
» Pendant is raw on one side and shiny on the other.
» Each pendant is a unique natural stone and varies in shape and size from 1 1/2 to 2 inches long.
» Chain measures 30 inches long.
Fun Fact:
One Oak by Sara is partnered with American Forests and one tree is planted for every item sold! Now aside from having a retail therapy, by shopping this product you are now giving back to the community! This makes it the perfect product for gift giving and to recommend to friends!
Acceptable form of payment is through Paypal and Credit Card (e.g.; American Express, Mastercard, VISA, Discover, Diner's Club, JCB)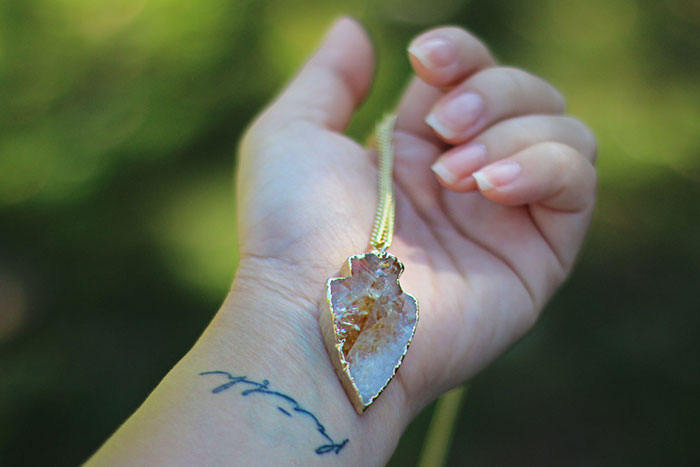 PIN IT!
What I love the most about the Sadie Necklace is its unique design. Somehow it radiates this beautiful mysterious effect. Like the arrowhead is meant to guide my path and direct me to the right direction.
❝ Watch an Up Close Feature of the Sadie Necklace ❞
There's more … you can avail a 10% discount if you use the promo code "KDollLovesVi". Please keep in mind that this code will only be active for 4 weeks so make sure to shop for your own timeless piece sooner than later.
For more details visit their product page: Sadie Necklace
To see what they share on instagram, twitter, facebook and pinterest feel free to find them under the username ❝ @VisibleInterest ❞
If any of you have questions or suggestions feel free to share them on the comment box below.