Summer season is absolutely the perfect time for some outdoor fun, but doesn't really go both ways for our hair … all thanks to breakage, frizz and a couple of other annoying summer-related issues.
Most common hair problem is frizz … hair that just won't tame down no matter what. I've seriously had some bad hair day moments and surely some of you had them too. Anyone of you tried wetting your hair too? I did. Sadly that didn't fix the issue and simply made my hair frizzier.
ArganEsque had relaunched their brand last year as Arvazallia and have been popularized for making hair soft, silky and manageable with their Argain Oil product line. Check out my detailed review below.
Premium Argan Oil Hair Treatment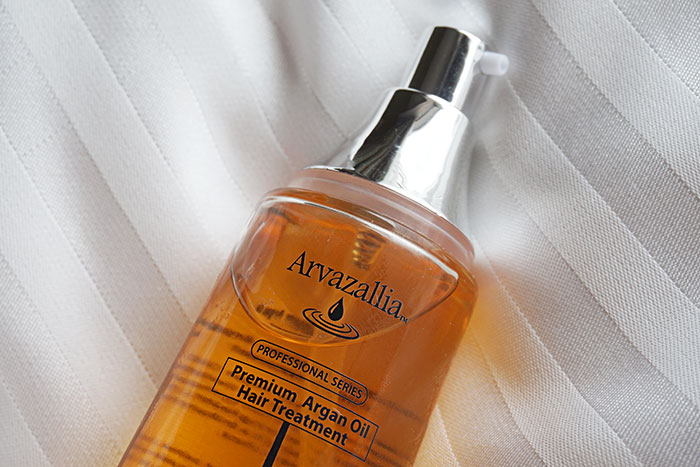 The Argan Oil treatment is an absolute gem! Most people don't know that my hair is quite thin. It only looks full and thick with proper styling. Some products that I have tried to control my frizz did the job just fine but ended up weighing my hair down, but not Arvazallia. This premium moroccan leave-in treatment moisturizes dry scalp, improves manageability and shine.
Original Price: $45.00
Sale Price: $17.99
– Packaging

– Product Quality

– Price
How to Use:
Step 1: Towel dry hair gently. The product works best while the hair is still damp.
Step 2: Squeeze 2-4 pumps of oil into your hand and gently rub your hands together.
Step 3: Run your fingers through your hair beginning from the roots towards the tips. If you have a natural oily scalp or for longer hair, you can apply the oil from mid-length downward.
Step 4: To finish off, blow dry hair (or air dry) and style as usual. The oil acts as a heat protectant from styling tools like blow dryer or flat iron. Because of the detangling effects of the oil it also helps shorten the drying time.
Step 5: After drying and styling, apply another pump of oil using the same steps from the start to control loose or out of place hair.
Hydrating Argan Oil Hair Mask
Totally love the hair mask as it helped restore and repair my over processed hair. I have had been bleaching and dyeing my hair continuously for the past 10+ years. Right after one use I immediately noticed the silkiness and manageability of my hair. In just two weeks my hair feels softer, less dull and a lot moisturized.
Original Price: $40.00
Sale Price: $15.99
– Packaging

– Product Quality

– Price
How to Use:
The hair mask should be used 1-2 times a week and as a replacement of regular hair conditioner. After showering lightly towel dry your hair and apply a good amount of the mask while hair is still damp. Gently comb the treatment through to allow it to be evenly distributed and absorbed. Leave the mask for 5-7 minutes before completely rinsing it off. You can style your hair as usual.
Maximizing Result:
For deeper conditioning following the mask treatment, apply 1-3 pumps of Arvazallia Argan Oil after styling.
For Thick, Coarse or Brittle Hair:
Mix in 2-4 Pumps of the Argan Oil with the Mask prior to applying to further improve manageability, elasticity, and shine.
Where to Order:
http://www.arvazallia.com/premiumarganoilbbpromo
http://www.arvazallia.com/hydratingmaskbbpromo
FTC: Product[s] mentioned on this post were provided by the company or the PR that works in behalf of the company for my consideration. All reviews I publish are my own honest and unbiased opinion. Press samples do not, in any way, affect the outcome of my product reviews. Post contains a link to a product page, shopping through this link will not result to a commission. I am not in any way compensated to write and publish this review.
XOXO
argan
argan oil
Arvazallia
Hair Treatment
Moroccan Oil