iFabbo.com sent over a package containing Beautisol Med. Self-Tanning Mousse Kit. In all honesty, this is my very first time to use a self-tanning product. You see, I have a very light skin and I want it to stay that way but I was feeling a bit experiment and that is why I decided to use my iFabbo coins to get this self-tanning product.
My package contains the Dark/Med Self Tanning mousse along with an application Mitt and the self tanning guide. I am so thankful that iFabbo sent the latter because I really have no idea how to use this product. The guide is actually quite comprehensive and is very helpful for a newbie like me. It states how many pumps you should use in each body area and what is exactly the best way to apply it.
Beautisol Medium Self-Tanning Mousse Kit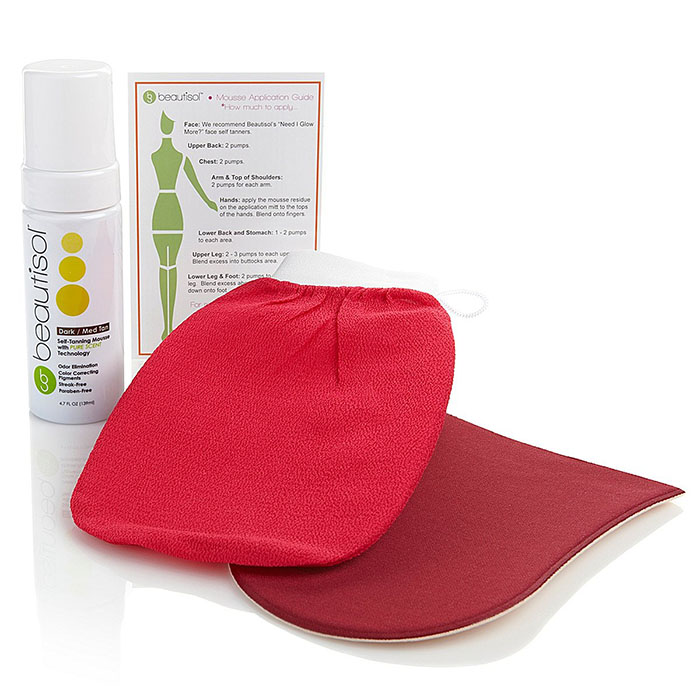 The Beautisol Medium Self-Tanning Mousse Kit Is designed to help the user achieve a long-lasting, fast-drying and natural looking medium tan. You will not look burnt since the mousse gives out a bronzing effect that creates a healthy glowing tan. It does not dry out your skin since it has moisturizing and anti-aging properties. The best thing about this is that you can easily apply it with the use of an application mitt.
Of course, I first did a color test and the effects really lived up to what is promised—a healthy bronzing tan. It is really fast drying so it isn't too much of a hassle to apply and use. The package said that it is odor eliminating which is not exactly true. You will be able to smell a hint of perfume upon opening it but the scent goes away once it is applied.
I'm fairly light skinned, and I often find it hard to get a good tan.
Prior to using Beautisol Self-Tanning Kit
After using Beautisol Self-Tanning Kit
If all self tanning products are as easy to use as this, then this is really a good alternative to put some color in your skin. Avoid any cancer risks as well as early signs of aging and opt for a self tanning product instead.
The Beautisol Med. Self-Tanning Mousse Kit retails at 33.90USD. For any questions and inquiries, feel free to message me!
FTC: Product[s] mentioned on this post were provided by the company or the PR that works in behalf of the company for my consideration. All reviews I publish are my own honest and unbiased opinion. Press samples do not, in any way, affect the outcome of my product reviews. Post contains a link to a product page, shopping through this link will not result to a commission. I am not in any way compensated to write and publish this review.
Beautisol
Beautisol Tanning Kit
iFabbo
Self-Tanning Kit
Tan
Tanning Kit