This post was sponsored by
Bebe & Bella
&
PRIMP Network
. All thoughts and opinions are my own. Post contains a link to a product page, shopping through this link will not result to a commission.
Turning 30 this year was definitely a huge turning point for me. It feels like time went by so fast. There are so many things I wish I could have done differently but cannot. We all have regrets right? Then we take that experience and learn from it. While most things cannot be changed or reversed … when it comes to skin care, I have not given up on the idea of trying to reverse my "neglect" and lack of knowledge. If only I have started earlier. If only I cared for my skin sooner. So many ifs!
Now that I am older and wiser, I have made it to a point to figure out what products works best for my skin. Be it topical, oral or a different type of solution. Many would refer to surgery and devices as controversial method. Friends have asked me multiple times if I know of any miracle pill or potion to share or suggest. The answer remains the same. If you want results, it will take time. If I do come across anything that it worth checking out, I will surely try it and share my progress. My most recent find is Bebe & Bella's BeBella® products – the world's first complete layered probiotic skincare system.
What made me excited about this new skin care line is its use of probiotics and collagen. I am sure most of you have heard of collagen products but not with probiotics. Personally, I am very familiar of the term because of my love for Yakult, Kefir and Yogurt. Unbelievably I have quite a stock of Yakult and I drink one a day. Do you drink daily Probiotic drinks? Are you aware of all the sugar in them? Knowing this, I continued to buy them — because of the benefits. Kefir and Yogurt are a good alternative but not as easy to consume and are much more costly. I do know supplements are much healthier but I did not know a reliable brand back then.
WONDERING WHAT ARE PROBIOTICS? Probiotics are the 'friendly bacteria' that help balance the digestive system and which recent scientific research finds improves both skin and brain function.
The BeBella line is unique. Their patented anti-aging formulation and works best through layering. Each product that makes up the whole line plays a critical role to achieve healthy glowing skin, fight off free radicals and reverse photo-damage.
Step 1 » Probiotic Facial Cleanser: removes dirt and impurities thoroughly while improving elasticity moisturizing and returning the skin to a balanced pH. [$65 US/120ml]
Step 2 » Probiotic Purifying Facial Toner: removes residues and reduces the appearance of pores. [$52 US/150ml]
Step 3 » Probiotic Facial Essence: light-weight water based moisturizer that is infused with ferment filtrates and hyaluronic acid. [$70 US/27ml]
Step 4 » Probiotic Hydrating Night Cream: quenches and hydrates as it helps skin to recover overnight. [$120 US/50ml]
Step 5 » Probiotic Eye Cream: reduces the appearance of fine lines "Keep the laughter, not the lines". $65 US/9g
Step 6 » Probiotic Facial Essence Stick: reduces puffy eye area and softens frown lines without greasy residue. Can be used without makeup or over makeup without smudging. [$65 US/9g]
BeClara ™ Skin Lightening » perfect your complexion with BeClara infused with a powerful combination of Lactobacillus casei, Glutathione-reduced and more. [$36.95 US/30 capsules] BeBella® Collagen Pro Supplements » innovative way to provide critical skin nourishment formulated to promote healthy, hydrated skin. [$31.95 US/60 capsules]
PROBIOTIC ESSENTIALS STARTER KIT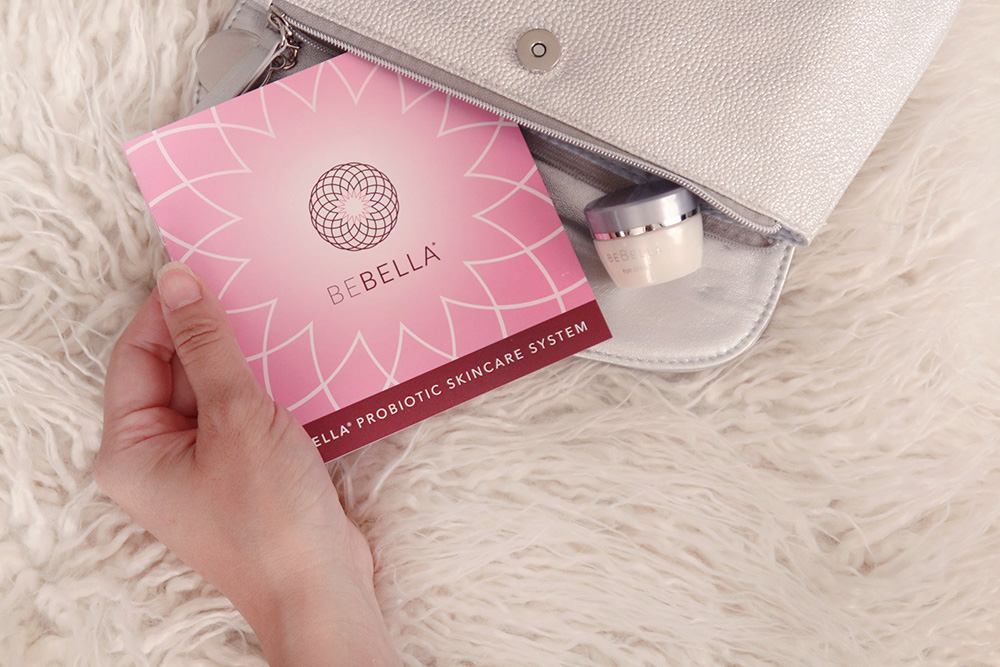 If you are always on the go or would love trial the products before committing, the BeBella® Probiotic Essentials Starter Kit is the perfect option to sample all the topical line. It even comes in a chic silver travel bag! [$65 US/5 pieces]
Facial Cleanser – 0.5 oz/15ml
Purifying Facial Toner – 1.0 oz/30ml
Facial Essence – 0.5oz/15ml
Hydrating Night Cream – 0.5 oz/15ml
Bebe & Bella won a Trendsetter Award at Cosmoprof Las Vegas!
I want the world to see me … not my frown lines or my sun-damaged skin. I want my bubbly and bright personality to reflect on my face and skin. With Bebe & Bella, I was able to find clear skin and you can too!
XOXO
Bebe & Bella
BeBella