We're back once again at Mom 2.0 Summit this year, and the Best Buy Suite is ALWAYS a show stopper! Year after year they never cease to amaze. For a tech enthusiast, it is absolute heaven! For the bloggers (and even brands) that wishes to discover new innovations, it is the go-to spot. Even my husband and little one can't get enough of all the amazing discoveries they have found. In case you missed the live updates on my twitter, instagram and fb stories … the whole family went to Austin Texas to attend Mom 2.0 Summit … and we had such a blast!
Best Buy Suite at Mom 2.0 Summit
First and foremost of all, the blue shirts are so helpful and knowledgeable! They can recommend which camera is suited for your needs. They even have demos and hands on experience to show how easy it is to share photos from the Canon Camera to your phone using the Connect app.
Canon
The Canon G7x is perfect for parents who's always on the go and busy keeping up with activities, while the Canon EOS R full-frame camera for taking your photography more seriously, and last but not the least is the Canon EOS M50 mirrorless camera that is perfect in size with so many interchangeable lens.
I personally love the Canon EOS R and I am already adding it to my wish list! It is crisp, sharp, and great for all my photography and videography needs! I wish I could take it home right away with me. It is absolutely PERFECT!!!
Canon Printer
There's also an amazing line up of printers for all your printing and sharing needs. I personally print a lot of paperwork for my business, craft sheets for our sons, and so much more! I am just glad I had the opportunity to check out the amazing line of Canon products.
When it comes to staying connected and being able to take perfect shots EVERY SINGLE TIME, the Nokia 9 PureView is the answer. Believe it or not, this beauty is designed with 5 lenses. Forget the blurry shots.
Nokia 9 PureView
Doesn't it look super sleek and sexy? Definitely a phone to check out and look out for.
If you're into working out, traveling, or simply loves to listen to music during your leisure time, the Jabra Elite 85h headphones is the perfect addition to your music and entertainment arsenal. The noise-cancelling feature alone is one for the books!
Jabra Elite 85h headphones
Now that you've seen tech and gadgets to fall in love with, let's not forget everyone else in the family! That's the thing with Best Buy … it is home to tons of family collectibles!
How to Train Your Dragon
What't not to love with dragons? This movie tugs with my heart strings every single time I watch it. Have you seen it yet? What about the classic favorite Toy Story? They have it too!!!
Toy Story
Just when you thought you've seen it all, there's more! I know right? Sounds like those infomercials you see on TV. But there's just too much to check out at the Best Buy Suite. There's even a sweets station featuring delicious, mind-blowing, captivating goodies!
hayley cakes and cookies
To wrap up my Best Buy Suite experience? You're going to be over the moon! Like literally. If you're like me who's a big fan of the show Supernatural … you'd be super stoked too! I had the chance to meet Genevieve Padalecki in person who played the role Ruby in the show. In case you're wondering, she is Jared Padalecki's (Sam) wife IRL!!! She is an absolute sweetheart and I can't stop blushing when she complimented my little pink dress. My goshhhhhh … it was super surreal! She also filmed a video with Best Buy while checking out the latest innovations from LG Electronics USA.
Super Natural Star Genevieve Padalecki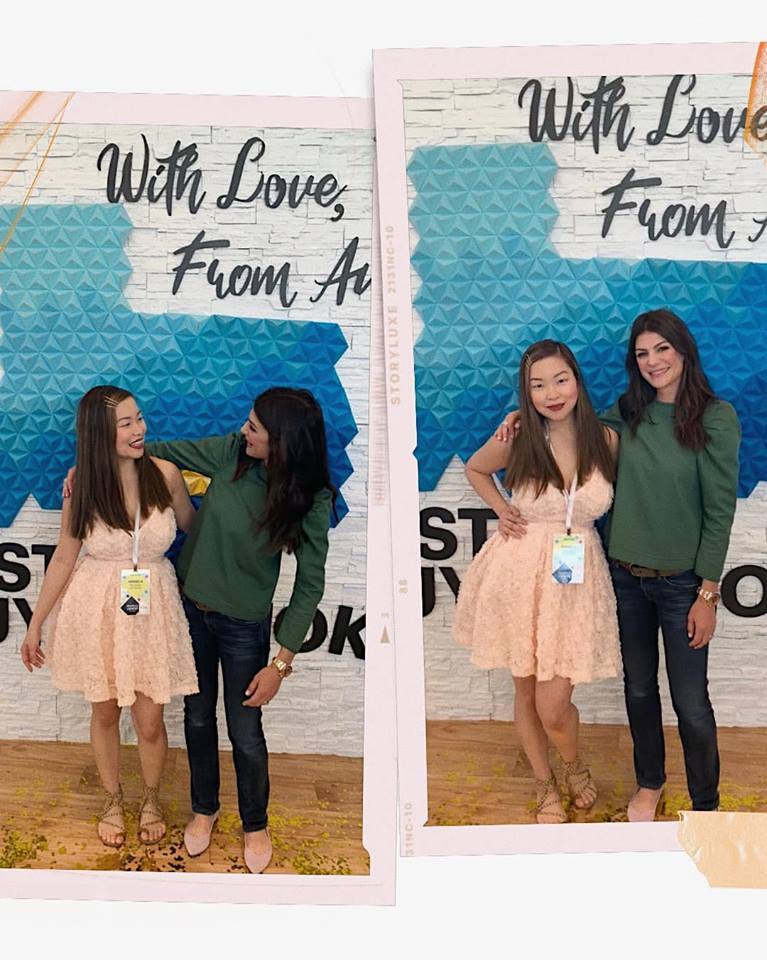 Seriously, LG is killing it! Those stainless steel is so gorgeous and the feature??? PHENOMENAL!!! Crazy that you can now control these amazing appliances straight from your smartphone or even with your voice. YES, you read that right.
LG MATTE Black Stainless Steel
I am soooo in awe of everything. Literally, I would love to have our dream home built and designed after a Best Buy Suite. Did you attend the Mom 2.0 Summit? If you did, how did you like the Best Buy suite? In case you missed it, I hope you get the chance to attend the next one taking place in California in 2020.
Until next post!
XOXO
Best Buy
Best Buy Suite
Mom 2.0
Mom 2.0 Summit
Mom Summit