This post is sponsored by BabbleBoxx on behalf of Moose Toys. While this post is sponsored, all thoughts and opinions are, as always, solely my own. Thank you for supporting the brands that support AngelaRicardo.com
Birthdays around the holiday season can be a daunting task, even more so if it is for a little big kid. With the busy holiday preparation schedule, finding the time or energy to organize a memorable celebration can be challenging. We are a military family, so we have always been away from relatives and loved ones. Additionally, the weather is quite cold during this time of the year, making it hard to plan outdoor activities. I always find myself in a very tight spot during this time of the year. How about you?
Our son Josiah King is turning 6 in just a few days! Time really does fly. We had thought about inviting his friends and classmates to celebrate, but given that they are all still too young, it's proving difficult to coordinate schedules with the other parents. Plus, Josiah's birthday falls on a weekday, so he will be in school. So we've ultimately decided to have an intimate celebration at home and host a sweets and treats day in his class. I greatly appreciate this age; they are big enough to express what they want, making gift-giving much easier! Honestly, I can't be the only parent pondering these things. Right?
If you are in the same tight spot as I did, let me help you navigate the challenge! Are you ready for a successful and stress-free birthday celebration during the holiday season? The 3 main things to remember are as follows:
• Who is coming while considering everyone's schedule – a small, intimate gathering will do!
• Finding a venue or where it will be celebrated – keep it short and straightforward.
• Gifts that truly excite!
Coming from the birthday boy himself, we asked what he would like to receive for his birthday. Needless to say, his answer also works as a Christmas Gift! If you haven't finished shopping and are still searching for a last-minute gift to purchase, we have a Kid-Approved list and a first-hand commentary on why it is a COOL GIFT and why we approve of them as a family.
Treasure X Skull Island
We have the "
Treasure X Lost Lands Skull Island Lava Tower Micro Playset
"!
Treasure X
has gone MICRO, and according to Josiah, it is more thrilling to explore a whole new world of
MEGA ADVENTURE
. The journey begins with an exciting adventure with two adorable micro-sized figures named Clifford and Magma Scar. Together, you will help them explore the
hidden secrets
of the
Lost Lands Skull Island Lava Tower
while crossing a bridge, steering clear of tricky traps, and even lava ooze while searching for real gold-dipped treasure!
*** Check out our previous post: Not-so-Obvious Back to School Essentials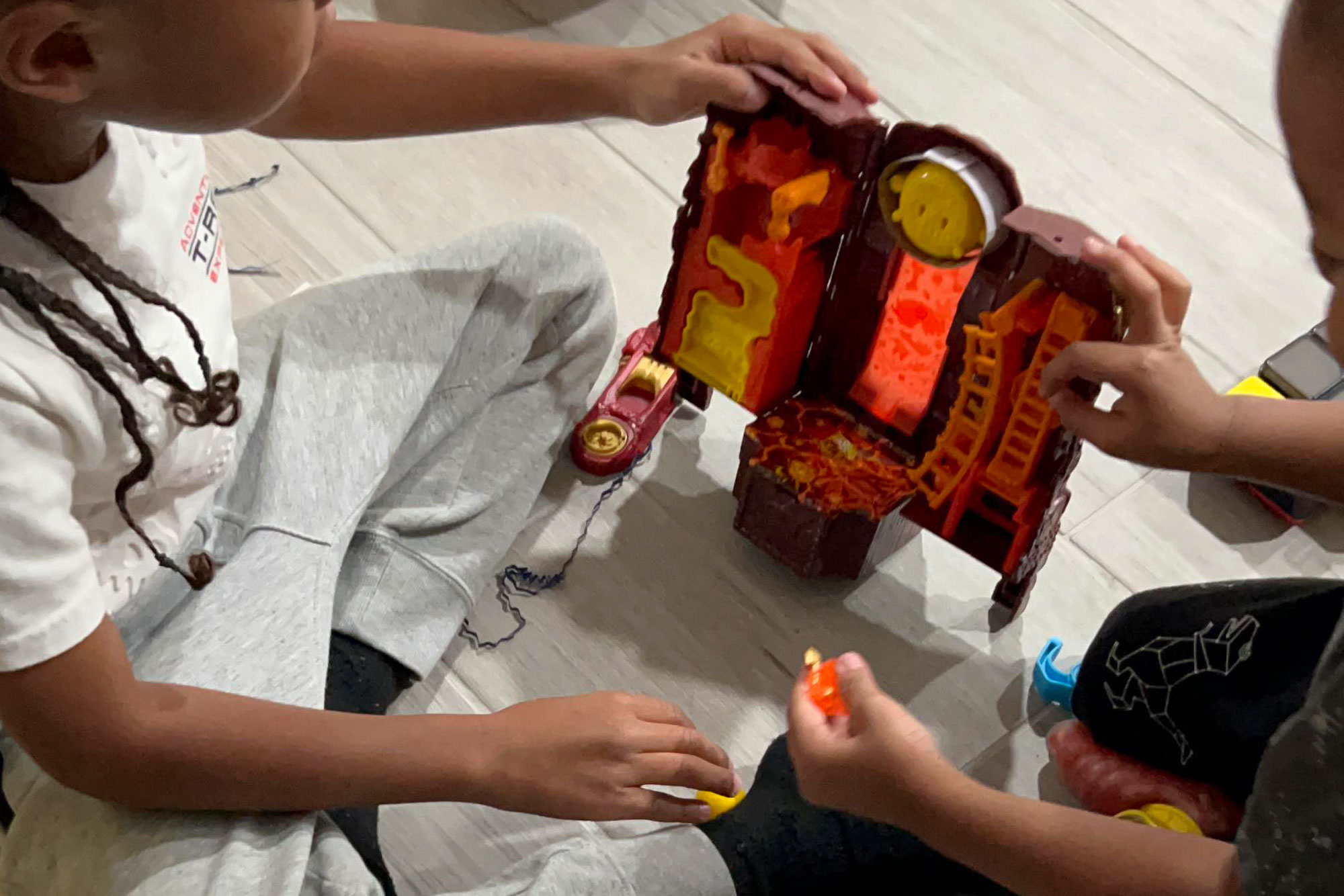 If you haven't seen the commercial, you need to catch up! As a parent, I searched for unboxing s' online and thought this was super cool! Since there are two characters in one playset and it has 15 levels of adventure, we give this a big thumbs up. Great for sharing and building social interaction.
Ready to add this to your list? Shop Amazon by clicking the link below:
https://tinyurl.com/stw6a25m
See the other towers and available accessories here:
https://www.moosetoys.com/brand/treasure-x/
Akedo (core)
During our last getaway before returning to school, Josiah discovered the World of
Akedo
and is thrilled that there are NEW "
Beast Strike
" warriors to collect and fight with! He is so fascinated with their beastly fighting styles, and now that he is in school, he claims he has the strength of a warrior to power through his martial arts class.
We love that this fuels his imagination and encourages him to partake in his self-defense class. He comes prepared to sprint, show off his kicks, and strengthen his super-strike like his favorite characters.
To add, our budding Hero is already requesting that Santa bring the Legends of Akedo Beast Strike Serpent Fury Arena to complete the overall experience.
Ready to add this to your list? Shop Amazon by clicking the link below:
https://tinyurl.com/ycx87yv2
Discover the other characters here:
https://www.moosetoys.com/brand/akedo/
Flipslide
Are you ready to wiggle and jiggle? Can you master the moves to
beat the blocks
? Test your memory and speed by yourself or challenge friends or family in the multi-player mode!
The master of speed claims he has everyone beat in our household. He loves the upbeat sound and can get through a long car ride without asking for a gadget to pass the time. We love that he can take it anywhere and play it anytime.
Ready to add this to your list? Shop Target by clicking the link below:
https://www.target.com/p/flipslide-handheld-electronic-game/-/A-53361030
Heroes of Goo Jit Zu Deep Goo Sea
The
Goo Jit Zu
team is back in action! You've seen us feature
Blazagon
with a unique "Power Core" in our back-to-school post. Now we're back with Tyro to defeat the gooey underwater villains!
Our little reviewer is thrilled that Tyro has TWO DIFFERENT goo fillings with DOUBLE the ATTACK POWERS – "Squish Power" and "Stretch Power"! He has Claw Pop Attack and can stretch his body 3 times its size and return to its original length and shape after. There are 6 hero packs and 2 double goo packs to collect!
The Heroes of Goo Jit Zu are the super stretchy and the squishiest action hero – unlike any other toys out there. Each Hero has a different texture and is filled with a magical goo, making them extra fun to play. Bring their imagination to life with a twist, squeeze, and stretch to see their inner core power come to life! Great for a sensory, imaginative play. Big plus, I can't resist not to SQUEEZE!
Ready to add this to your list? Shop Amazon by clicking the link below:
https://tinyurl.com/3hyj3h34
Discover the other characters here:
https://www.moosetoys.com/brand/heroes-of-goo-jit-zu/
Doo Doo Kangaroo
If you're looking for a fun party game that doubles as a family bonding activity, welcome this
Kooky Kangaroo
home. It's silly and fun and will deliver lots of laughs as it
shimmies
its way around.
Our celebrant loves spending time as a family and is very competitive. He is eager to impress everyone with his reading and counting skills. This makes the race to pick up the first 5 donuts to win even more exciting.
We love that this Kangaroo can be played between 2-4 players and encourages patience, taking a turn, and sharing among other kids.
Ready to add this to your list? Shop Target by clicking the link below:
https://www.target.com/p/doo-doo-kangaroo-game/-/A-87882658
Now that we have the gift ideas covered, all that is left is to have fun and enjoy the celebration. Remember, it doesn't have to be big and grand for the party to be successful. I actually opted for some balloons, a mini cake, cupcakes, donuts, and last but never least … TOYS! With some creativity and planning, overcoming ANY challenges and having a fantastic birthday party is possible.
*** Big nod to Moose Toys for constantly thinking outside the (toy)box and pushing innovation boundaries.
XOXO
gift
Gift for Boys
Gift Guide
Gift Ideas
Gift Shopping
Holiday Gift Guide
Holiday Shopping