This is a sponsored post written by me on behalf of Cricut. All opinions are 100% mine.
We're still a few months away before our son turns 3, but since he is showing a lot of interest in learning and truly enjoys interacting with other kids, we've decided to start looking into pre-school. It's not like we're rushing but we'd rather have a head start on things especially it's not like you'll find a school that is the right fit immediately. At one point, I started checking out school activities and somehow, I ended up on Pinterest checking out ways to personalize school belongings. After all, having their items customized is an excellent way to differentiate which belongs to who. Plus, no kid wouldn't appreciate having a "unique" piece that they can fully call their own. It's also a plus if they were able to choose and design their own stuff. Some parents have considered personalizing an item (or two), but shied away from the thought, thinking it might be too difficult. Honestly, it is very EASY and takes very little time. While I won't be needing a backpack or lunchbox to customize anytime soon, I have given it a try for the Backpacks of Love Project. It was sure a fantastic learning experience for me since I too was a newbie when it comes to personalizing a bag. This project would also be a great back-to-school project that you can work on with your child. Another idea would be as a gift or memorabilia. Ready to make your own? You're going to need these supplies:
Blank backpack (I have used the Everest brand for this project but any backpack with fabric exterior will do just fine. Just make sure it is not made of plastic.)
Cricut Explore or Maker
EasyPress 2 (9×9)
EasyPress mat
Infusible Ink
Iron-on Vinyl
Iron-On Protective Sheet (you can also use Teflon sheet or Non Stick Heat Transfer Paper)
Towels for stuffing
Standard Grip Mat
Weeding Tools
When you're ready, make sure to carefully consider the colors of the backpack and the supplies that you will be using. It is best if you use a contrasting shade to make your design stand out. Learn from my mistake, and don't use red over hot pink. This was an obvious no-brainer, but I have figured I'd give it a try anyway. I had 4 colors to start with … White, Gray, Hot Pink, and Blue.
From there, make sure to remove any labels that would get in the way of your design. You can use a seam ripper or a small scissor. Then carefully weed out the loose threads. If you have a lint roller, it is also a good idea to use over on the area where you will be applying a design.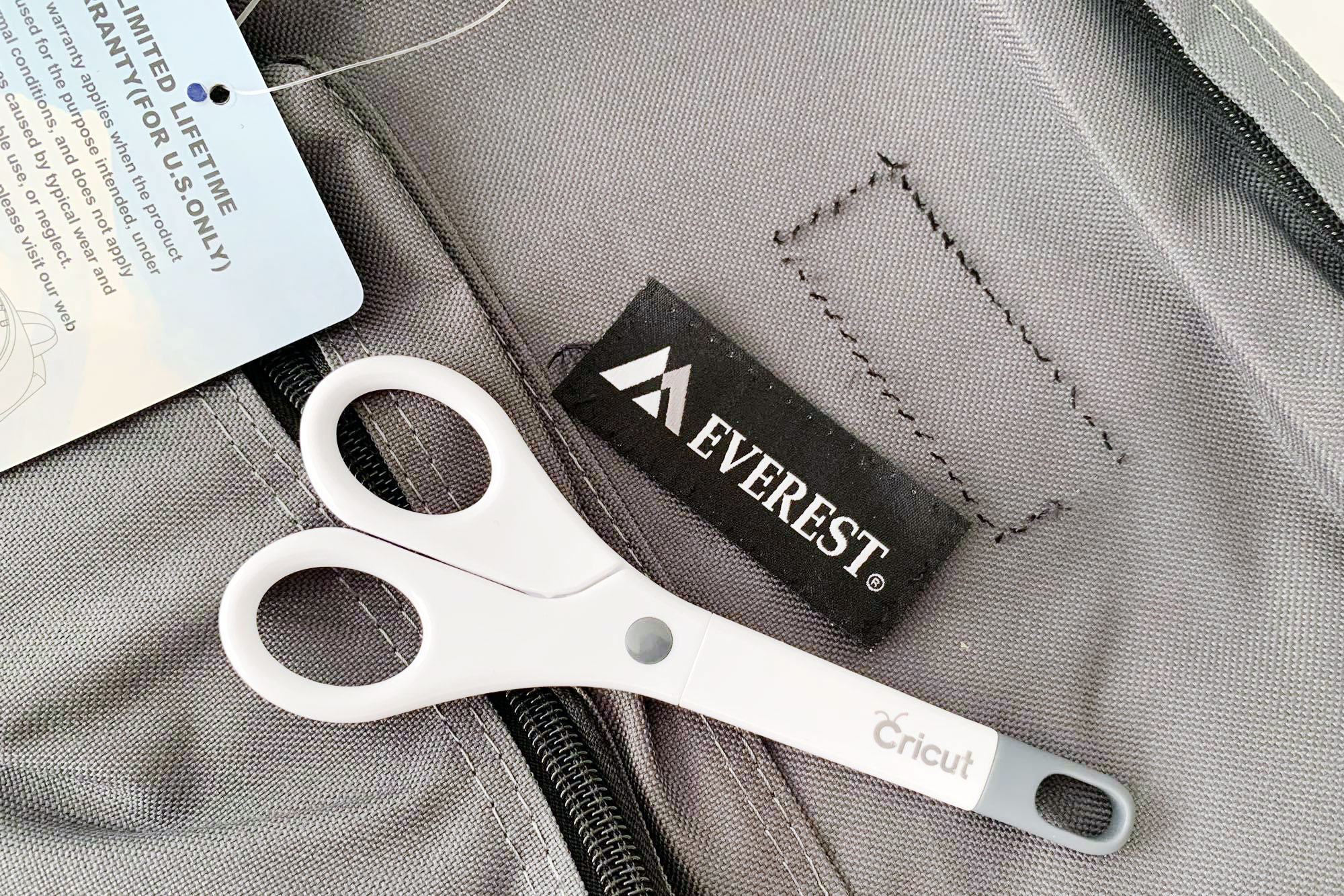 Once the label is off, measure the area in your backpack where you want to place the design. Open Design Space and start planning out your creative ideas. I played around with all the choices available. There's a lot of graphics, font styles, and even pre-made designs that you can customize to make it your own.
For my first attempt, I have decided to try out Infusible Ink to create beautiful graphics that were already premade. It was meant for a baby onesie, but it's just a base material. It can be made for anything. To re-create this specific design, open up this Design Space Project. Edit the project size to perfectly fit on your backpack. Add an additional design to decorate if you wish.
The process for using the Infusible Ink and the Iron-On material is just about the same. Depending on your base material (what the bag is made of), you set the Easy Press setting compatible with it. Since my bag is made of Polyester mix, I used 315°F and pressed for 30 seconds. Warm Peel for Infusible Ink and Cold Peel for the Iron-On Vinyl. Find out more regarding the Heat Guide Setting here.
Customizing with Infusible Ink

Step 1. Prepare the bag.

Step 2. Heat the area first to remove moisture on the surface before applying your design. Use a heat transfer tape to hold your design in place.

Step 3. Carefully use the heat press over the area and hold it in place firmly. Do NOT hover or move around.

Step 4. Carefully peel the backside while it is still warm.

Step 5. Use a weeding tool tweezer to lift anything that was leftover.

DONE! Your design is now finished and ready to be enjoyed.
Doesn't it look absolutely fabulous? I'm not one to brag but for a beginner and a first-timer, this sure seems like the design came with the bag! As I have mentioned, it is super straight-forward and not technical at all. Some friends have asked me if there was a huge learning curve, and to be honest? I honestly don't think so. Just follow the steps carefully and in only a few minutes (while I was enjoying a cup of coffee), I got one fo the bags done. Want more inspiration? I browsed Design Space and found this "Wild One" design that I can recreate for one of the bags. This time, it is meant for a shirt and I have used Iron-On Vinyl for it instead of the Infusible Ink.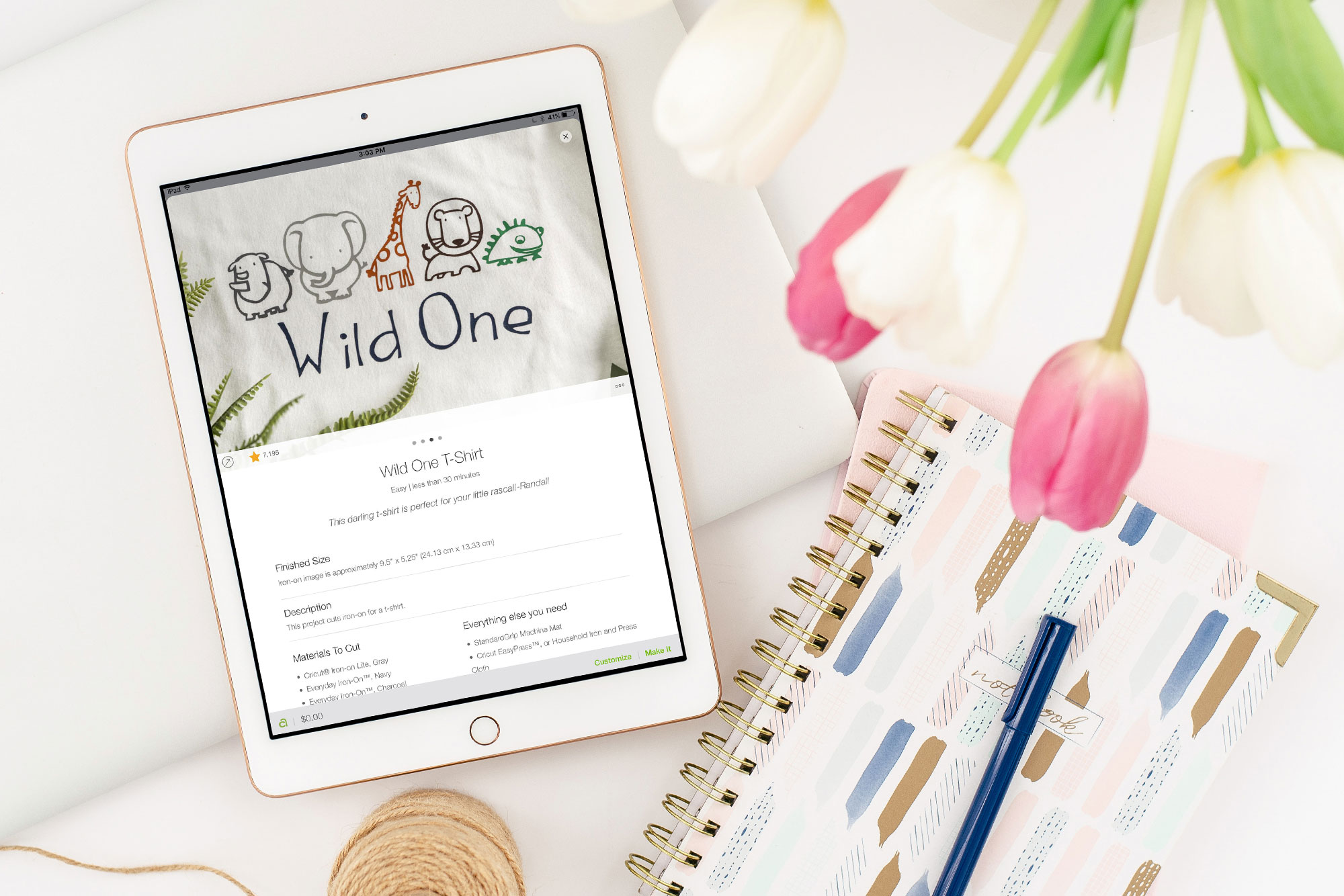 Here's the final look for my Backpacks of Love project. I am absolutely in love with the results. Extra plus that it was labored with my passion. The rainbow print on the white backpack and the word love on the pink backpack was made using Infusible Ink. All the rest of the designs were made using StrongBond Iron-On Vinyl.
Personalized Backpacks!
… and that wraps up this DIY Personalized Backpack with Cricut! If you have any questions, feel free to share them using the comments box or reach out to me on social media. I wish you all the best and happy crafting!
PS: If you do find yourselves creating backpacks using my guide, I would love to see what you've made! Please share them with me or tag me on social media so I can see and share them too (if you allow it) so other crafters can find inspiration from your creations also. xo
This is a sponsored post written by me on behalf of
Cricut
. All opinions are 100% mine. While this post is sponsored, all thoughts and opinions are as always, solely my own. Thank you for supporting the brands that support AngelaRicardo.com
XOXO
cricut
Infusible Ink
Iron-On Vinyl