As a beauty blogger, having a reliable makeup brush is essential. Sure, some of us can make do by using beauty sponge or our own fingers but one way or another there are certain looks that can only be achieved with the proper makeup tools.
As a partnered blogger of iFabbo, I have yet another feature / review to share … Crown Brush! The iFabbo team sent me Set 523 – Purple HD Set with Mirror and Tweezer (6 piece cosmetic brush set) the color is lighter than a typical purple shade and is closer to a lavender shade. Click here "http://bit.ly/19fuEGV" to check out the other colors they have. The brushes were carefully encased in leather like case with the word "Crown" etched on the cover case. First impression, it is very chic! The case runs flat so you can easily fit into any handbags or medium sized satchels.
Quick Overview on Crown Brush's Quality
The brushes were made of high grade synthetic fiber that is very soft to touch. What I totally love about Crown Brushes is the fact that it is vegan friendly and very gentle to the skin. Personally, I have had my fair share of testing out different brushes from different brands. Most of these brushes run from okay to average and my experience with Crown's exceeded my expectation. I would highly recommend this product to all my friends and readers.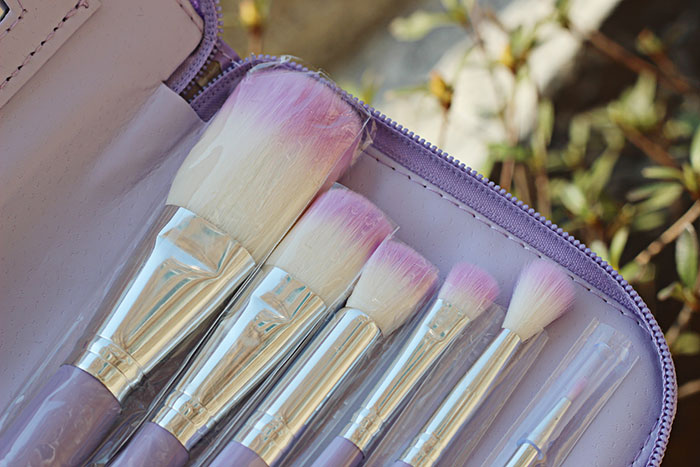 The overall look of this product would align this brush with well known high-end brands. Truth be told, the color played a big role capturing my attention. The brushes looks absolutely fabulous with its white synthetic fiber dipped in a lavender shade. I love edgy looking products. Seriously speaking, who wouldn't want to flaunt a product that would make people wonder what brand or product you are using? Without a doubt, the answer to that would be no one.
This lovely Crown Brush setis available in CrownBrush.us for only $27.95 and its original retail price is $69.99 which saves shoppers a whopping 60% or $42.04 to be exact.
Don't miss it! xox
FTC: Product[s] mentioned on this post were provided by the company or the PR that works in behalf of the company for my consideration. All reviews I publish are my own honest and unbiased opinion. Press samples do not, in any way, affect the outcome of my product reviews. Post contains a link to a product page, shopping through this link will not result to a commission. I am not in any way compensated to write and publish this review.
XOXO
Crown Brush
Crown Brush HD Set
iFabbo