Lately I have been trying out different types of organic products [as well as consumable goods], and so when I have heard of EOS Organic Lip Balm I immediately checked online to see where I can purchase one for myself to try and review. I ended up stumbling on one of my favorite online store, which is Ebay. I found quite a few reputable sellers, and ended up with the seller selling different flavored EOS balm.
You can already guess I didn't end up with just one item. 😆 Yep. I ordered 4 different flavors. I just can't help but try four right away [even if I never tried it before, nor seen it or smell it in person]. I can only hope it is as good as the hypes I am reading. When I have received my package I hurriedly tried it and I must say … I am in love! How I wished I have discovered this product a lot earlier. 😀
EOS – Evolution of Smooth have revolutionized lip balms that we all know and love. They created their balms to be 95% organic, 100% natural and gluten and petrolatum free. Each are packed with antioxidant-rich vitamin E, soothing shea butter and jojoba oil which all guarantees to keep our lips moist, soft and smooth. EOS do not test their products on animals (cruelty free!).

Product Details:
Long-lasting moisture
Shea butter & vitamin E
Smoothes on clear
Precisely glides on lips
Twist-off top
Gluten-free
Paraben-free
Petrolatum-free
Phthalate-free
0.25 oz
Ingredients:
Olea Europaea (Olive) Fruit Oil*, Beeswax/Cera Alba (Cire D'abeille)*, Cocos Nucifera (Coconut) Oil*, Simmondsia Chinensis (Jojoba) Seed Oil*, Natural Flavor (Aroma), Butyrospermum Parkii (Shea Butter)*, Stevia Rebaudiana Leaf/Stem Extract*, Punica Granatum (Pomegranate) Seed Oil*, Tocopherol, Helianthus Annuus (Sunflower) Seed Oil*, Rubus Idaeus (Raspberry) Leaf Extract*, Linalool**. *Organic. **Component of Natural Flavor. Certified Organic by Oregon Tilth.

EOS Organic Lip Balm Macro Shot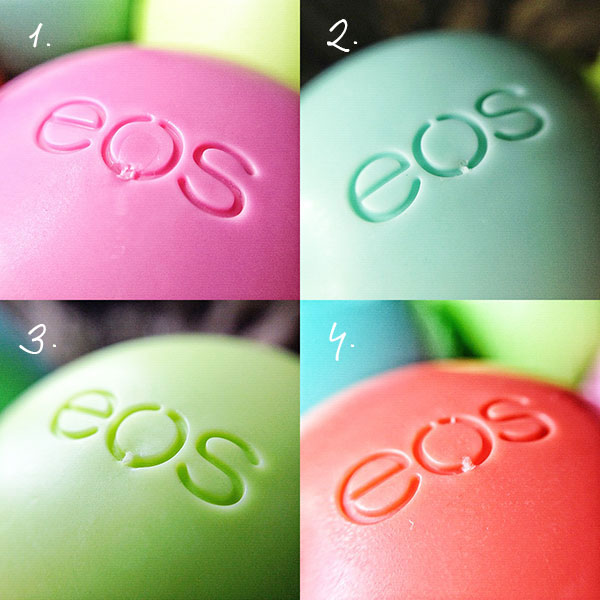 PIN IT!
(macro shot photo taken with iPhone4s with macro lens)
1. Strawberry Sorbet – smells fruity with a very light hint of strawberry and faint smell of shea butter. The shea butter scent fades after a minutes upon application. Color of the sphere is one shade darker than normal baby pink hue. This is my most favorite color of all four.
2. Sweet Mint – smells fresh and minty. Not too fragrant and strong, the hint of mint is very subtle. Leaves a refreshing feeling right after application. The refreshing minty sensation it leaves is quite addicting. By far my favorite lip balm of all. Comes in a cute shade of pastel blue.
3. Honeysuckle Honeydew – smells sweet and slightly fruity. The hint of honeydew is barely noticeable but the sweetness is there. On a personal level I am not a big fan of mint shades but the color of this balm's packaging is in light lime green color that is easy on the eye.
4. Summer Fruit – smells very sweet and fruity. Out of all 4 balms this balm is the sweetest and comes bursting with refreshing flavors of strawberry, blueberry and peach. The scent is very noticeable but not too strong, in fact its sweetness is very inviting. This balm's packaging comes in a red-orangey shade.
PIN IT!PIN IT! – Packaging

PIN IT!PIN IT! – Product Quality

PIN IT! – Price
Overall – I have fallen madly in love with the EOS balms. Not only because it is "natural" and "organic" but as well as for the product quality. In less than 24 hours of using these balms (yes, I have tried them all), my lips seems like it is in a better condition prior to usage. My lips have been moisturized to a whole new level. The scent is very easy on the nose and in fact some are very light that is barely noticeable. Perfect for everyone, even for those who aren't into scented products!
Each EOS balms retails $3.29 and can be purchased from evolutionofsmooth.com or from other trusted retailers. Aside from lip balms, Evolution of Smooth also offers smooth stick, multi-packs, handlotion, body lotion, shaving cream and limited edition products. Treat yourself to a new level with EOS Organic Lip Balm and find out how awesome this product is.
The makers of EOS Organic Lip Balm Sphere are from New York, NY 10016
FTC: I am not in any way affiliated with Evolution of Smooth. I have purchased this product for my honest review and this is 100% my honest opinion.