Pamper yourself and get ready for festival season with a selection of great beauty products, undies, and snacks introduced by BabbleBoxx. The theme for this feature is Festival Love List, and it is an entire festival for self-care! As an expectant mom as well as with the season in full-bloom, the products they have shared are really exciting because they cover everything I love! It has super cute clothes, beauty products to help me look my best, and even a snack! I'm so in love with each and every single item and very thrilled to discover new brands. I've been holding back my excitement for this post so I can finally share all the great stuff in it with you guys. Trust me, these must-have's are the perfect way to pamper yourself!
Pamper Yourself with an Eclectic Mix
Like all BabbleBoxx features, this has a wide variety of items. That's one reason I love partnering with them so much. You get a little of everything, and it's always something unexpected. So without further ado, let's talk about all the cool stuff that I got in the mail in my BabbleBoxx FESTIVAL!
If you follow my Instagram, you know I love high fashion and being fierce. BUT I also love to be super comfy and cozy when it's time to relax on the couch and head off to bed. P.J. Salvage makes cozy, comfy sleepwear that gives me that cozy feel while being so much cuter than sweats. In fact, this gorgeous line is designed to be worn both in and out of the house. So I stay cute and on point no matter where I am! Yay!
Tied Up – These bralettes and camis are all about comfort. They come in a variety of beautiful spring colors and prints so they can be mixed and matched for lifestyle perfect for any occasion.
Wild Spirit – Don't just wear sweatpants, wear a statement. These grey heather pants with floral graphic leg prints which pair perfectly well with just about any bralette, cami or top.
Renpure's Black Label Coconut Line of all-natural extra virgin oil and natural coconut water moisturize the hair, leaving it shiny, healthy, and beautiful. The light-weight coconut water molecules are rich in nutrients to nourish hair and hydrate it. Because great hair compliments a great look!
Renpure Black Label Coconut Water Hydrating Shampoo – Coconut oil and bamboo fibers are infused into the shampoo to cleanse and restore moisture and nutrients.
Renpure Black Label Coconut Water Hydrating Conditioner – Unrefined coconut oils and bamboo fibers work together to smooth even the wildest hair while restoring moisture, nutrients, and natural oils to leave your hair more radiant and beautiful than ever before.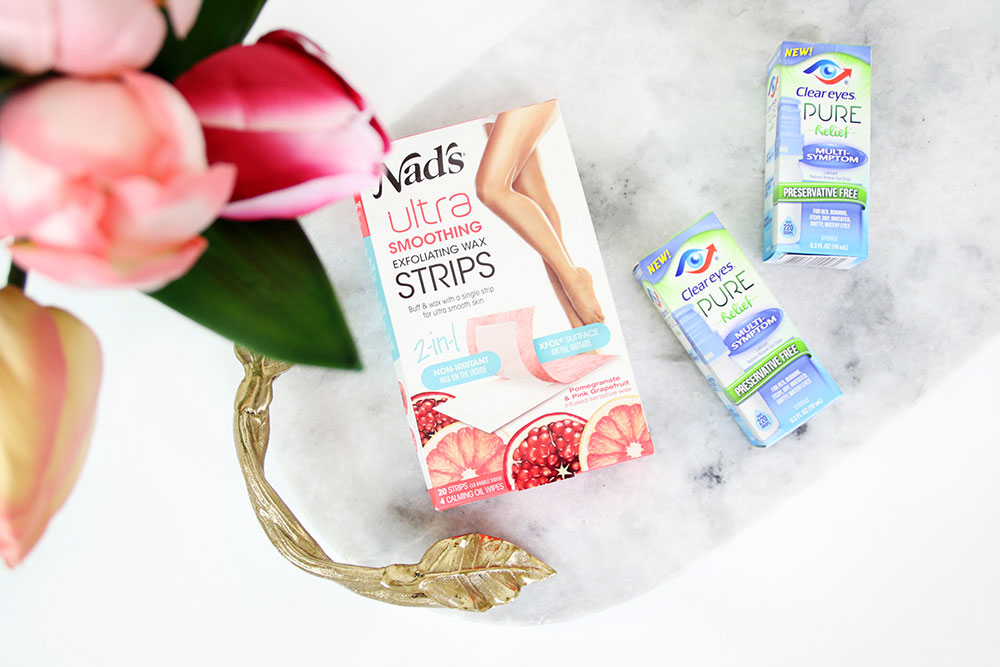 One of the best ways to pamper yourself is to keep those eyes moisturized and healthy. Clear Eyes Pure Relief are Preservative Free eye drops. It relieves red eyes without added stuff for your to worry about. Like their other eye drops, Pure Relief comes in a multi-dose bottle and is available at retailers nationwide.
This bottle is unique. It allows the drops to be Preservative Free with a built-in purifying filter to keep out bacteria! However, being Preservative Free doesn't lessen its effectiveness. The unique formula relieves red, burning, itchy, dry, irritated, or watery eyes. I love these because I love to hit all the festivals in my area during the warm months, but my allergies make me look like I've been crying all day! Heads up! You can head over to the Clear Eyes website to save $3 right now on these drops!
Pamper yourself with these amazing wax strips! I already am, and they are amazing. I'm a waxer. I'll always be a waxer. It's faster and does a better job for me than shaving. So I am SUPER excited about these wax strips. That's because they do so much more than remove hair!
These specially created salon quality wax strips are infused with pomegranate and grapefruit extracts, making them perfect for sensitive skin. They're perfect for legs, arms, and bikini, and their 2 in 1 formula preps, exfoliates, and removes hair in one simple step!
What's just as much fun to pamper yourself with as great beauty products? That's right. CANDY! I'm a candy girl, and Sour Punch is one of my favorite brands. I love that sweet and sour mix, and I got two awesome flavors in my BabbleBoxx this month.
Ragin' Reds – Ragin' Reds is candy Heaven! It has all of our favorite red Sour Punch flavors, including strawberry, watermelon, cherry, and their new raspberry. I got them in my BabbleBoxx, but you can also find them at Target.
Pineapple Mango Chili – In the mood for a different kind of candy? Try this little bites of amazing. Bite into one of these, and you'll surely get a yummy blend of pineapple and mango and a kick of exactly the right amount of spice.
You need to hydrate yourself to truly pamper yourself, and La Croix has some great flavored waters to help you do just that. My BabbleBoxx had some excellent flavors to choose from. La Croix is 100% natural sparkling water, with no added sodium, caffeine, calories, sweeteners, or fat! They're non-GMO, Kosher, Paleo, and Whole 30 friendly, as well. They're the ideal way to replace sugary drinks and get hydrated!
Curate Mure Pepino – Sweet and sour blackberry combine with crisp cucumber to create a refreshing flavor combination.
Curate Melon Pomelo – Cantaloupe and grapefruit make for a crisp, tangy flavor with the right amount of sweet. – my personal favorite!
Curate Kiwi Sandia – Bright watermelon, tangy/sweet kiwi? Oh yeah. It's so tasty!
Curate Pina Fraise – Pineapple and strawberry come together in La Croix's newest flavor.
Ready to get inspired? Check out what's inside my bag — all thanks to BabbleBoxx!
Festival season is coming, and this BabbleBoxx FESTIVAL offering is absolutely the best! It's the easiest way to pamper yourself on every level. I loved all the products I received, and I think you will, as well. With these must-have's, you can pamper yourself both inside and out. So make sure to check each item out and give it a try!
This post is sponsored by BabbleBoxx.com on behalf of Single Edition Media. I am disclosing this in accordance with the Federal Trade Commission (FTC) guidelines concerning the use of endorsement and testimonials in advertising. I received complimentary products to facilitate my review. While this post is sponsored, all thoughts and opinions are as always, solely my own. Thank you for supporting the brands that support AngelaRicardo.com
XOXO
Babbleboxx
Festival Season