In our household, one of the things we enjoy as a family is watching tv shows, movies, and even tuning in to our favorite sports team. I personally am not a complete sports buff, unlike my husband –who stays on top of ALL the latest. From football, basketball, baseball, you name it, and he's got the scoop. We even frequent the stadiums in Philly and NYC to enjoy the game live. Except lately, as we can't really stay out late nowadays because of Josiah's sleep schedule. So we opted for a lot of in-house game day get-together.
As much as we would love to keep our old lifestyle, it just wouldn't work for a growing toddler's routine. Of course, spending time as a family is significant to us too. Especially hubby is always on-the-go with his schedule. So how do we spend our special day? With a delicious homemade meal of course! Obviously, I don't spend a lot of time whipping things in the kitchen, or that would beat the purpose of having a family day. How do I go about on things? With a few quick hacks.
1. Super-Easy Recipes
For those of you who love game day festivities like tailgating, stop the madness of spending too much time and effort preparing for the event that you will be hosting. Choose recipes that will be an easy fix, so you don't have to be so tired on game day. Who would want to be so exhausted on a day they plan to enjoy on the very first place? Surely not me. I prefer utilizing our instant pot and oven so I don't have to do anything major. Then pair it with game-day approved drinks. Presto, you got everything covered!
2. Go Big for the Big Game
Trust me, a big screen like the LG OLED 77 Inch C8 TV does wonders! The picture quality is absolutely superb, the sound quality is above and beyond, everyone at the party would surely enjoy. Oh, and let's not forget sports buffs like my hubs who loves it so much for not missing a single detail. As for me, I can still see the game no matter where I am at! I could be in the kitchen cooking, getting seconds, or busy multitasking keeping up with our son –and still be able to stay in the loop.
3. Cooking Flexibility AND Convenience
We all want to maximize our time. Do more, without having to work so hard. This is why I love the latest innovation our generation has to offer. Just like LG combination double wall oven, because it literally cuts the cooking time in half! What I love about it is that it delivers the "even cooking" of convection, to the lightning speed of a microwave. Not to forget that it brings luster to kitchen spaces too! The black stainless steel pair beautifully with any style and elevates the surrounding of all cabinetry.
LG Combination Double Wall Oven
Doesn't it look absolutely dreamy? It's available at Best Buy for an amazing deal! Save $500 with the purchase of a 5-piece LG Kitchen Package. The offer is valid: 12/6/18 – 3/6/19
Check it out here: https://bby.me/nfynu
While we're still on the subject of game day celebration hack, why not try my all-time hit "Habanero Bacon Wrapped Shrimp" that will surely get the whole family going! To be honest, this can also be a go-to "lazy-day" homemade dish. I promise it can't get easier than this.
Habanero Bacon Wrapped Shrimp Recipe
Ingredients:
30 Large Cooked Shrimp, (deveined)
1 cup Habanero BBQ Sauce
1 Package of Bacon
1. I prefer fresh ones from the seafood aisle. If you have a fresh shrimp, simply rinse then place the shrimp in the fridge for about half an hour while you work your way towards the next steps. This will help preserve it's freshness.
2. Preheat your oven to 425 degrees and line two baking sheets with aluminum foil.
3. If you're using frozen shrimp, thaw the shrimp by running cold water over it for several minutes then pat it dry. Do this step after preheating your oven to make sure the shrimp stays fresh.
4. Remove the bacon from its packaging then cut the slices in half.
5. Lay each piece of bacon out on the baking pan and bake it for about 5-6 minutes.
6. While waiting for it to get done, scoop a spoonful of the habanero BBQ sauce onto the shrimp and toss.
7. Line the baking pan with parchment paper and wrap each piece of shrimp (covered in the habanero sauce) with a piece of bacon. Leave the tail part exposed and carefully place onto the baking sheet.
8. Switch your setting to broiler then bake the shrimp on 425 degrees for 15 minutes until shrimp is cooked and bacon is crisp.
Habanero Bacon Wrapped Shrimp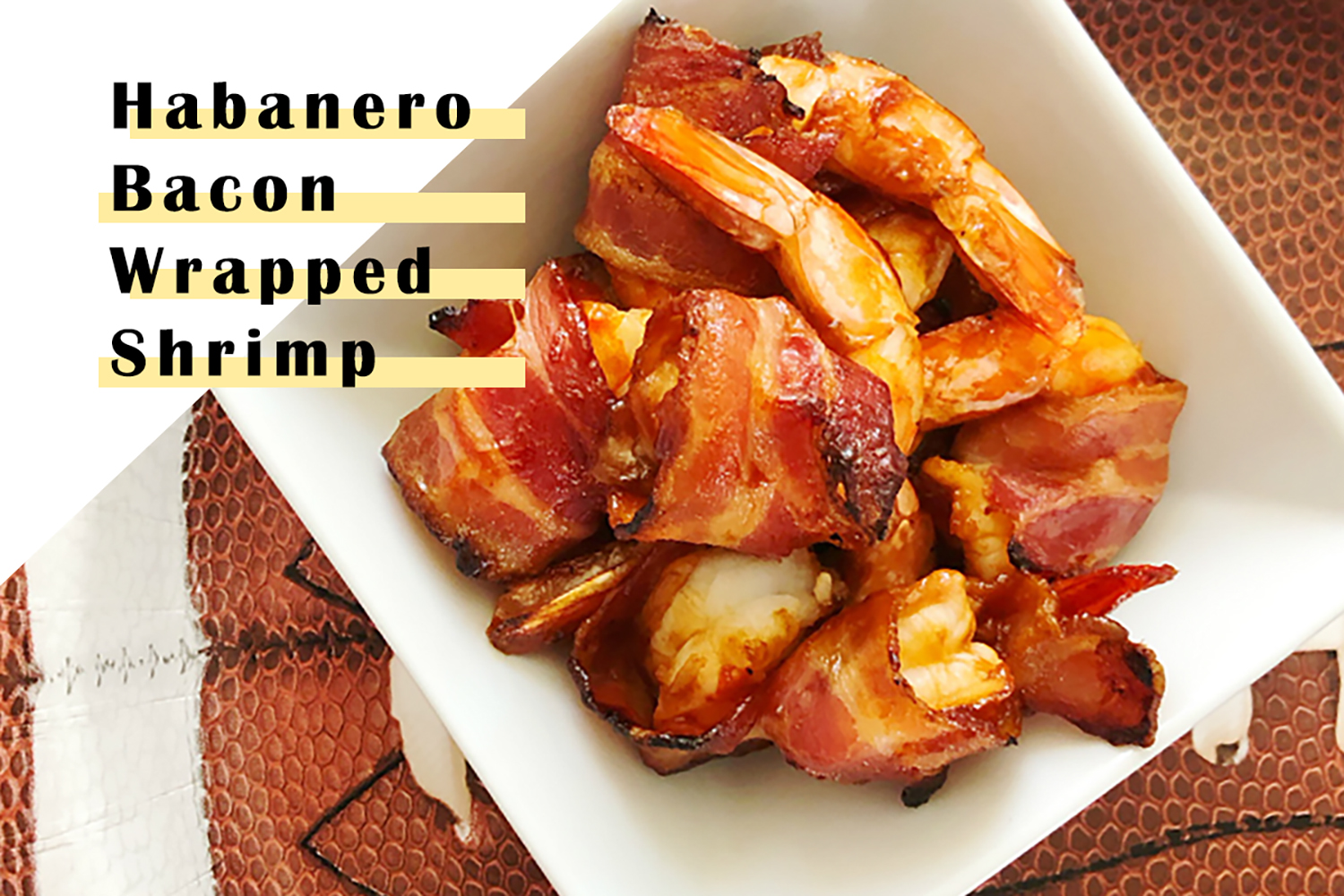 That's it! Serve and Enjoy. Let me know your thoughts!
The reviewer has been compensated in the form of a Best Buy Gift Card and/or received the product/service at a reduced price or for free. While this post is sponsored, all thoughts and opinions are as always, solely my own. Thank you for supporting the brands that support AngelaRicardo.com
XOXO
Habanero Bacon Wrapped Shrimp