Wanna be on top? On top of Helix personalized mattress that is. You probably thought it was something else. If you're a fan of ANTM (America's Next Top Model) you'd know that I borrowed the line from the show's theme song.
All jokes aside, I've had my fair share of sleeping problems. As I was growing up, I'd rather stay up than sleep. My mama said it must've been my energy. I got into college and personally noticed that I don't sleep enough – I assumed it was just insomnia. Once in a while I do get a decent sleep after being worn out or exhausted. Then the accident at my old work place happened where I went toe to toe with a flight of stairs. There goes my back. From then on it was like a battlefield between a good night's rest and my mattress.
So when I have been given the opportunity to partner up with Helix Sleep to give their mattress a try, all hopes came knocking at my door. What makes them so special or different? Well … Helix Sleep takes the guesswork out of mattress shopping. Check out the Helix Sleep Video below: "Personalized Mattresses for Unprecedented Comfort".
They offer a simple and straight-forward questionnaire that helps couples / shoppers share their personal data to create a "made-to-order" mattress optimized across four key performance metrics: feel, support, elasticity and temperature regulation. To achieve the most comfortable bed the materials used are premium quality materials such as latex, micro coils and high-grade foam. In fact, they're all about personalization that the mattress can either be "blended" with an optimal midpoint or "split" (additional $100) with each side individually personalized. My hubby and I went for the split type.
Why do we need the Split type? Because my husband and I tend to disagree over our mattress firmness. Truth be told, sharing a mattress with my hubby is quite a dilemma. How so? The difference on our weight plays a big role. He doesn't feel/notice the issue I am having as he is the heavier one. When he lays down it causes his side to sink and the surrounding areas to slope towards his. Which obviously pulls my side making it tilted. How would you feel sleeping in a tilted mattress? This is not "The Princess and the Pea" fairy tale story but I'd say the discomfort I am feeling is about the same if not more. If you're wondering how many types have I tried – I'd say more than enough (from the traditional foam, spring, air, and futon). Yet, I still wake up restless. Story of my life right? I am sure a lot of you can relate. Good thing with Helix Sleep, we were able to select our own preferences for each of our sides.
The mattress arrived on our doorstep in a hexagonal tube and conveniently rolled inside with a thick plastic wrap. They have provided a small tool to help unwrap the mattress that quickly unfolded right before my eyes after unpacking. I have shared a quick walkthrough on my Snapchat – feel free to follow me there "angelabethea" so you can keep up with my updates.
In about 35-40 minutes my mattress was ready – all fluffed and ready to go. I jumped in and noticed that there really is a difference between my side and hubby's. I couldn't wait much longer to put the mattress to the test and so I've started decorating. Here's how I styled my mattress …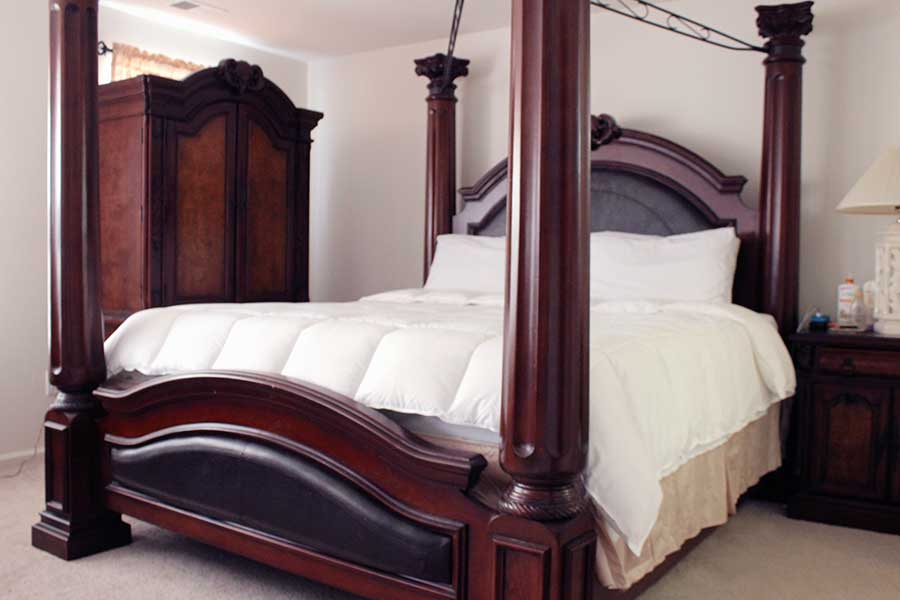 How do you like my all-white set up? Hubby thinks it might get easily dirty, but with proper care it shouldn't be too hard to maintain. What I really love about it is that it looks very cozy, bright and relaxing. Just one look and the bed feels like it is inviting me to take a quick nap or just lay down and unwind. That's because the sunshine is reflected easily with the white bedding and in return brightens up the whole place.
Shortly after setting the bed up I slept my way in and with all honesty and transparency, I kind of like his side more than mines. It felt like his side is much "cushier" and softer. From the questionnaire, I've chosen that I am a side sleeper while he is on his back on most days. We also have chosen that we prefer a "very soft" mattress but in my honest opinion it still is way firmer to my liking. I like fluffy, cloud-like feel but I suppose that's their "very soft" type and everything else is customized to fit the needs of my body. So to other shoppers please keep that in mind. If you're wondering if there's a "break in" period I'm already ahead of you. According to their FAQ page – there may be an adjustment period as your new bed "breaks in" and your body adjusts to the new, optimized sleep system.
After sleeping in my Helix Sleep mattress for a few days I did notice that my body has adjusted to the firmer feel of their "very soft" mattress. No issues or problems at all. I've decided to wait for 2-weeks before writing my review and perspective. To be fair, sleeping in a mattress for straight 14 days should be a good enough time-frame to assess how my body and sleep will be like in a new mattress.
Overall, I am very happy with my mattress. In fact, I am sleeping much better than before. If I had hubby's side I know I'd sleep so much sounder but that's just my opinion. Would I recommend the Helix Sleep? Absolutely! For everything they have to offer, it is way better than any other mattress I have ever had — and? You don't have to mattress hop just to find the right one. Simply visit HelixSleep.com and get a customized mattress made just for you. I would love to know your thoughts! Feel free to share them on the comment section below. Until next time. xx
XOXO
Helix Sleep
Helix Sleep Mattress
Mattress
Mattress Shopping