This post was sponsored by HiMirror through PRIMP Network. I am disclosing this in accordance with the Federal Trade Commission (FTC) guidelines concerning the use of endorsement and testimonials in advertising. I received complimentary products to facilitate my review. While this post is sponsored, all thoughts and opinions are as always, solely my own. Thank you for supporting the brands that support AngelaRicardo.com
Late last year, I have shared about HiMirror on my social media pages as well as on my youtube channel. While I am aware that our generation loves innovative tech and gadgets, I did not expect the response I received from everyone. It goes without being said that there is a significant demand for the HiMirror as well as the HiMirror Plus – a smart beauty mirror. While there are products in the market that are deemed to be a luxury, this device falls under necessity. How so? This device comes with the most advanced tech known to men.
My youtube video for the first HiMirror was an absolute hit. Did I say first? Yep. My favorite beauty device just got an upgrade! The first one is already everything I could wish for it to be. The newer version? My mind was completely blown! So I figured this would be the perfect time to blog about it and share my thoughts on the HiMirror Plus, the upgrades from the original version, the HiSkin device, as well as point out why I love and recommend it for everyone.
HiMirror
First thing first, the installation is pretty straight forward. It requires an internet connection through Wi-Fi but needs no technical skill. It weighs 5.5lbs and can either be mounted or displayed using a stand. The device comes with everything you will need including a guide, the mount and tape. I prefer a stand so I can easily move the mirror around. I love to re-decorate every few months and having this device mobile is the best approach. I purchased a metal easel through Amazon and made sure it can support the mirror's weight.
As far as the set-up process, installing the HiMirror only takes 5 minutes. Some have reported having a glitch on their WiFi connection on the first model. Luckily I did not experience any hiccup. With the HiMirror Plus, the installation process is also the same and once again, no problems whatsoever.
Moving forward to its features, let's start with my favorite one from the HiMirror that had been carried on to the updated version – a built-in personal beauty consultant! If you've visited a dermatologist in the past, you'd know that a simple consultation can already prove to be costly. Doing routine follow-up racks up the bill. Having a consultant (at the convenience of your home) easily pays for the cost of the mirror itself.
Each scan analyzes the following:
Clarity
Texture
Firmness
Brightness
Healthiness
No matter your area of concern, the built-in consultant is equipped to handle the situation and make an intuitive assessment using the HD camera (the circular shape sitting on top of the mirror).
Red Spots
Fine Line
Wrinkles
Dark Spots
Pores
Dark Circles
Complexion
Morning Routine with the HiMirror Plus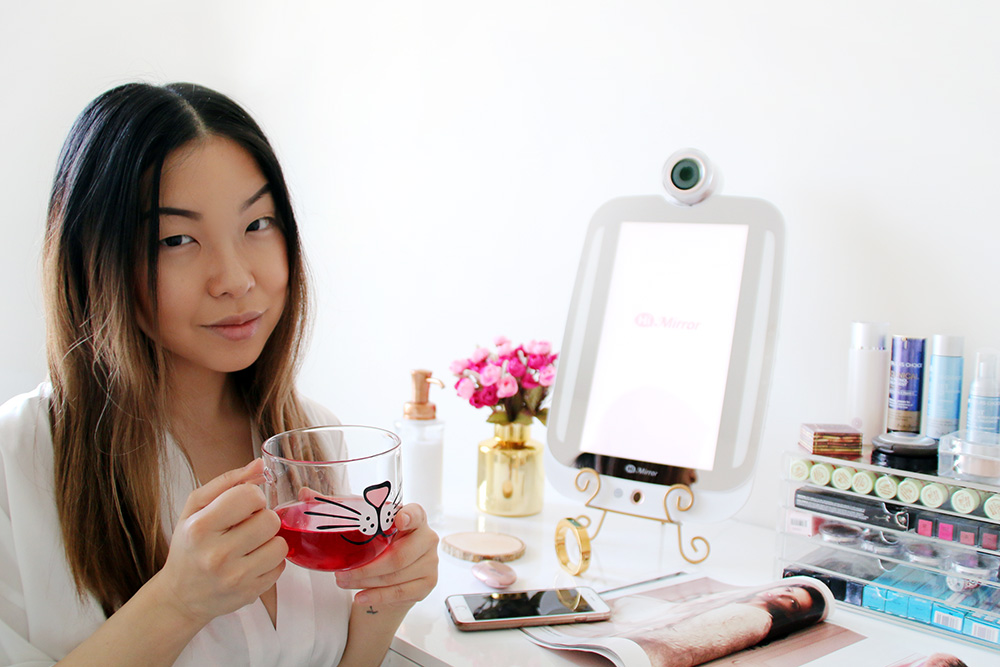 Now let's proceed with my favorite feature of the HiMirror Plus – this update plays a significant role in my routine. This upgraded feature is the smart-ambient makeup light! It's a built-in light that helps apply makeup flawlessly. The lighting is designed to feature five different lighting scenarios to match the different weather, time and brightness of the surrounding.
Sunset View – leaves a yellow / orange cast
Restaurant / Party View
Shopping Mall / Supermarket
Bright lit office – my favorite lighting
Outdoors on sunny days
As for the major upgrades and change, majority is in the specifications that help improve the overall performance of the device. Here's the complete breakdown …
Specification Comparison
On top of it all, this device also offers the following:
My Routine – helps keep track of your skin care routine.
Skincare – analyze your skin and find out what you need to focus on next.
Body & Fitness – track and stay in shape the smart way (with the help of the Smart Body Scale).
My Beauty Box – allows managing your existing products and maximizes usage and its effectiveness.
Media Centre – dedicated for a personalized entertainment zone where you can listen to your favorite music, station and even watch your favorite YouTube videos.
Onto my favorite add-on accessory to the HiMirror Plus is the HiSkin. This handy skin analyzer takes every skin care and beauty routine to the next level. With just a few tap you can quickly take better care of and even record the changes in your skin. Even more, this handy little device can easily fit into any purse bag to be taken on the go.
HiSkin
Using the device's detection system, you can now keep your skin hydrated at all times and check if you need a boost or if you're right on track. Check your progress using the HiSkin app both available for iOs and Android devices. You can also shop for skin care products using the HiSkin.
In case you missed my review of the original HiMirror device, feel free to check it out on the embedded youtube video below …
The HiMirror and HiSkin is definitely ❝ the future of all skincare devices ❞ and if you're into skincare, want to take better care of your skin or simply want to age gracefully — this device is definitely for you! This would also make a great gift for your family, friends, and even for yourself! ❤
XOXO
HiMirror
Smart Mirror