Most of you are well aware that I have been living in Italy for a few years now. Some of you have asked what my favorite stores to shop at locally. I am a frequent shopper, but mostly from online. As a blogger I spend a lot of time on my computer and if not, I am busy travelling. So I have "limited" favorite in-stores I shop at. Among those few is H&M Italia, which is located in Via G. Marconi in Desenzano. Since I used to live in Desenzano, I am quite familiar of the area and have found a few spots I have learned to love.
H&M 's branch is located inside a mini-mall where there are other local "Italian" stores and restaurants at. In my honest opinion, it is a very nice location and definitely a hot spot. My beloved other half and I loves to eat at "Sushiko" an eat all you can Chinese and sushi buffet restaurant. Every once in a while, we find ourselves stuck on a waiting list before getting to dine in. Obviously, I would spend my waiting time looking around if not shopping in H&M which happens to be right across Sushiko.
Here are my in-store photo feature of H&M …
H&M Accessory Section:
Me, Myself and I:
H&M Ladies Wear … (with a touch of Spring):
H&M Ladies Wear … (in Neutral Shades):
… and if you enjoyed all the photos above, I would like to add some stolen shots of yours truly busy checking out H&M's product.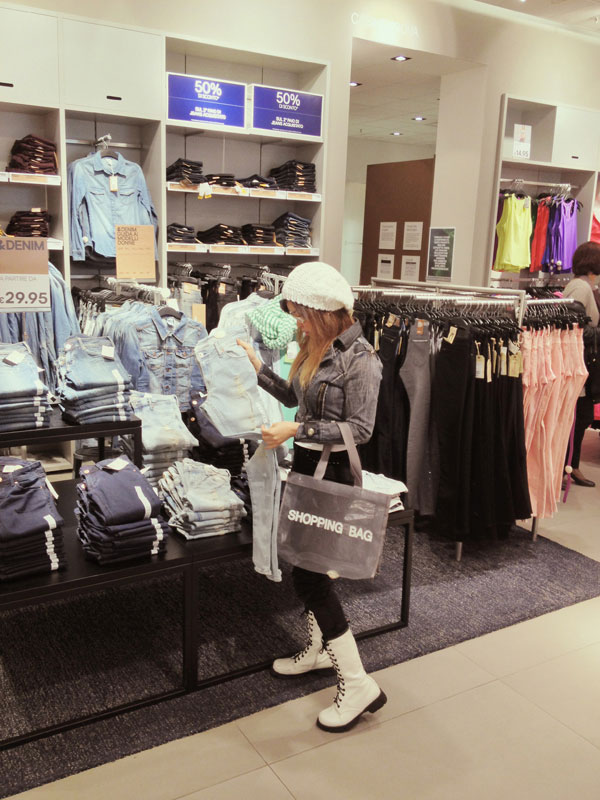 H&M Spring 2013 Collection is definitely something to look out for. Bright colors and pastel shades to mix and match with. I simply can't help but adore all their pieces.
This feature won't be complete without sharing my very own fashion styling collage. I have created 3 spring inspired ensemble based from H&M's collection. The following have a touch of denim and subtle colors of Mint, Beige and Mustard Yellow.
H&M's branch at Via G. Marconi is absolutely a delight to check out. The store is very spacious and have tons of products that are often updated. That's actually a major plus factor for me as I don't like wasting my time visiting a store only to end up seeing the same product I have already seen a few weeks back. Definitely a must check out branch.
Website: www.hm.com
Address: Via G. Marconi – Location Viaduct, Cc Le Vele, 25015 Desenzano del Garda (BS), Italy
Phone: +39 030 991 1191
Hours: Saturday hours 9:00 am-8: 00 pm
Feel free to contact me if you have any questions, recommendations or request to be featured next. Until next time! xx
XOXO
accessories
accessory
blogger
blogger event
clothing
event
fashion
fashion blogger
feature
H&M
shopping
spring
spring season
style
trend
trends