Technology has revolutionized the types of vacuums available on the market today. Vacuums in the past were strictly JUST for carpet care. Yet, we find this feature a revolutionary change for giving us the means to clean all the floors of our home without having to resort to the traditional method –which is sweeping. We've also tossed away the feather dusters. All thanks to the vacuum attachments that make it much more manageable to dust and to tidy furniture without breaking so much as a sweat. Except, we have gone far more than that nowadays.
That's right, our generation and technology have afforded us so much more than just the traditional use of this handy invention. One great example of this is the NEW BISSELL CrossWave Cordless Max. This multi-surface cleaner can vacuum & washes your floors at the SAME time! If that's not a deal-breaker just yet, it is even handier because of its cordless feature … a great way to spell out freedom! No more tangles and cords.
But what exactly can vacuum do for us, and what is the best approach for its usage? If you're wondering "How Much Should You Vacuum", you can check out the following house cleaning tips and pointers … First thing first, let's start with the following …
Primary function of "Home Vacuuming".
The primary function of vacuuming is to remove dirt, dust, and allergens from the house. Vacuuming a house daily significantly reduces the buildup of dirt and grime in the home. Create a daily vacuum schedule to reduce regular vacuuming time, without sacrificing cleanliness in the house.
For example: select a day of the week to vacuum ceiling fans, ceiling corners, baseboards and top of door frames. Select another day each to vacuum carpeting, ceilings, hard flooring, bathrooms, high traffic areas, and eating areas.
Frequency of Vacuuming Your House
Select frequencies to vacuum specific areas of the house based on the type of use and amount of dirt buildup. For example, a guest bedroom may hardly be used and may need vacuuming once a month. Whereas a kitchen floor or under the dining room table may need daily vacuuming to keep the areas free of crumbs.
Consider a lightweight vacuum for areas that require daily vacuuming. Empty the canister after cleaning the frequently used rooms.
Types of Flooring Affect Vacuuming Amounts
Types of flooring affect how often you should vacuum the house. Some examples of rugs, such as shag, benefit from bi-weekly vacuuming to lift the carpet piling and fibers. Additionally, rugs collect dirt that can settle under the carpet padding. You should vacuum rugs often to reduce the buildup of dust and allergens beneath carpet padding.
MAJOR TIP: Dirt, pet dander, dust, and debris are more noticeable on certain types of hard flooring. You should vacuum these floors more often to keep the house neat and tidy.
This is where the BISSELL CrossWave Cordless Max becomes an amazing cleaning partner! Not only is it safe and effective for use on multi-surface (from tiles, laminate, linoleum, rubber floor mats, sealed wood floors, pressed wood floors, and so much more!), it also works excellent for refreshing area rugs.
Vacuum Your Home Based on Pets and Allergies
Pets and family members with allergies increase the amount of vacuuming needed. Short-haired dogs shed more frequently than medium-haired and long-haired dogs. Cats shed less than dogs but produce copious amounts of dander during their grooming rituals.
Examine furniture around pet crates and corners of rooms for a collection of pet hair and pet dander. These areas need daily vacuuming, particularly if anyone in the household has allergies.
MAJOR TIP: Open windows, dirty air filters, and frequent entry use can quickly fill the house with allergens. You should vacuum more frequently during pollen and grass cutting season, particularly if family members have allergies.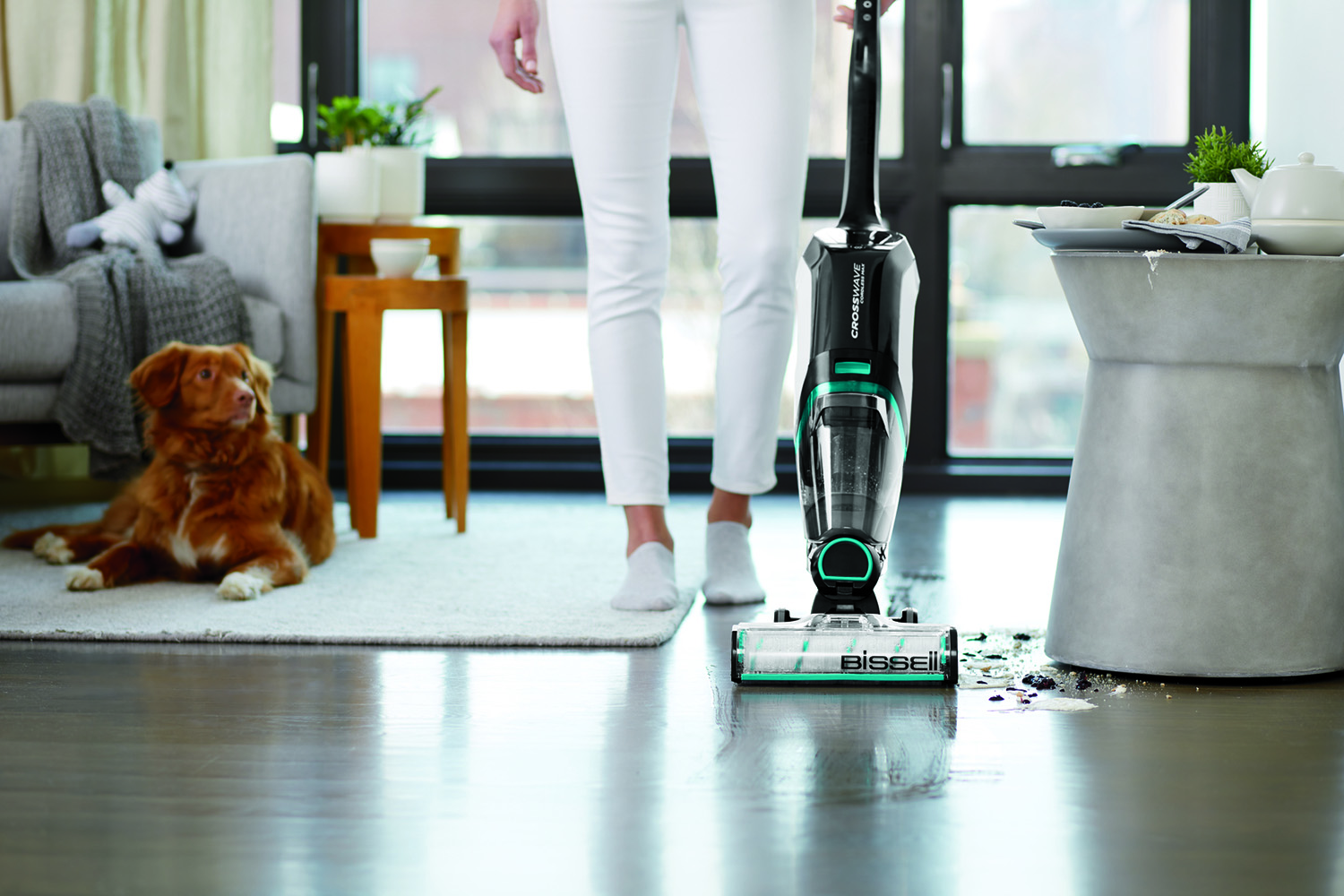 Family Types Affect How Often You Should Vacuum
The type of family living in the house plays a factor in how often the house needs vacuuming. Families with small children require more frequent vacuuming to keep the floors sanitary than families with older, grown or no children.
Larger families generate higher volumes of dirt tracked into the home. High-traffic areas soil faster than homes with smaller families or couples.
MAJOR TIP: Different types of occupations can generate more significant amounts of dirt that enter the home. Depending upon the profession, some homes will need frequent vacuuming to keep ones home clean.
At the end of the day, no matter how many times you try to clean up and tidy after your family you just can't prevent the mess and everything else in between from happening all over again. Which is why it is crucial to have a vacuum that you can rely on –literally for everything! BISSELL CrossWave Cordless Max can keep up from light tidying to major general cleaning. This is also a great partner in crime for families with babies, kids, or even pets!
BISSELL CrossWave Cordless Max Features
Improved edge cleaning – no more picking-up pet hair by hand or trying to find creative ways to clean up the hair and fur that gathers along baseboards and in the far corners of your home.
Self-cleaning cycle – no more messy clean-ups because of its self-maintaining feature. You can bet that there's less clean-up after cleaning AND it also extends the life of your device.
Two-tank design system – this innovative feature keeps clean and dirty water separate which makes filling and disposing of water much more manageable. This also means you never have to clean with dirty water EVER.
Bagless technology – bid those replaceable bags goodbye and save time and money for not having to buy replacements.
Cord-free – by far the handiest feature to look forward to as this device offers up to 30 minutes of cordless cleaning power (with a 36V lithium-ion battery).
Simply put, for all of life's mess, you can entrust the care of your home with the BISSELL CrossWave Cordless Max. Order one at Best Buy "https://bby.me/2ks2m" and make cleaning up a breeze starting today! Also, if you buy BISSELL®, You also get to Save Pets. That's because BISSELL will donate $10 to BISSELL Pet Foundation® for each CrossWave® Cordless Max purchase upon activation. Just visit BISSELL.com/pets to register your device & BISSELL will make the donation.
Have some tips to share? Feel free to let us know in the comment box below. I would love to know what are your ways or cleaning hacks to keep your home sparkly clean and how you utilize your vacuum at home.

XOXO