Make way for another awesome Giveaway!!! That's right, another giveaway that will keep y'all at the edge of your seats. There's a lot at stake with easy to follow mechanics to participate. A total of $750 is up for grabs to be paid via paypal! That's cold hard cash just waiting to be spent.
How did I come up with this giveaway? I have partnered with Ron of RonLeyba.com and Resuface.com to share this amazing opportunity. Ron is great blogger friend who juggles multiple sites [like I do] and works hard to deliver great content to his readers. Resuface.com on the other hand is an online community that aims to connect employers and employees. Check out the info below for more details.
On to the giveaway … the $750 will be broken down into 3 parts and 3 lucky winners will be chosen. Refer to the prize tier below…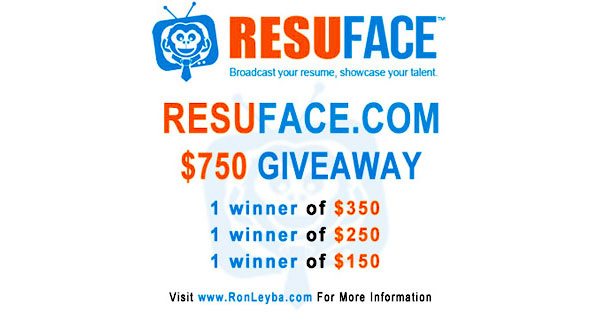 Via ResuFace.com – Broadcast your resume, showcase your talent throughRonLeyba.Com & AngelaRicardo.com
Giveaway Notes
Contest will start in April 22, 2013 and will run until May 22, 2013 12:00 PM Pacific Standard (Daylight) Time (May 23, 2013 4:00 AM – Philippines time zone). Contest is open worldwide so everyone is welcome to join. Feel free to come back daily to complete daily task for additional points for better chances of winning.
Join the Giveaway Here
Best of luck everyone!
XOXO
cash
cash giveaway
contest
giveaway
money
prize
resuface