Seeing independence on a little one at such a young age sure looks adorable … up until you have one of your own. Then that "awwe" moment quickly turns into worry and fear when they start reaching for things and grabbing for all types of stuff higher than their reach. That's the main thing, when a toddler reaches the fun age of 18 months they're ready to start helping around the home. The issue with 18-month-olds is that they're too short to help with everyday activities, especially to stand at the kitchen counter. This is how Little Partners Learning Tower helps little ones step into independence!
What Exactly is a Toddler Learning Tower?
A toddler learning tower is also known as a Montessori Tower or a kitchen helper. This item is similar to a step stool but more stable for little toddlers to use. There's a four-sided frame at the top to prevent your toddler from toppling over while they use this learning tower similarly to a step stool for helping around the home or in the kitchen.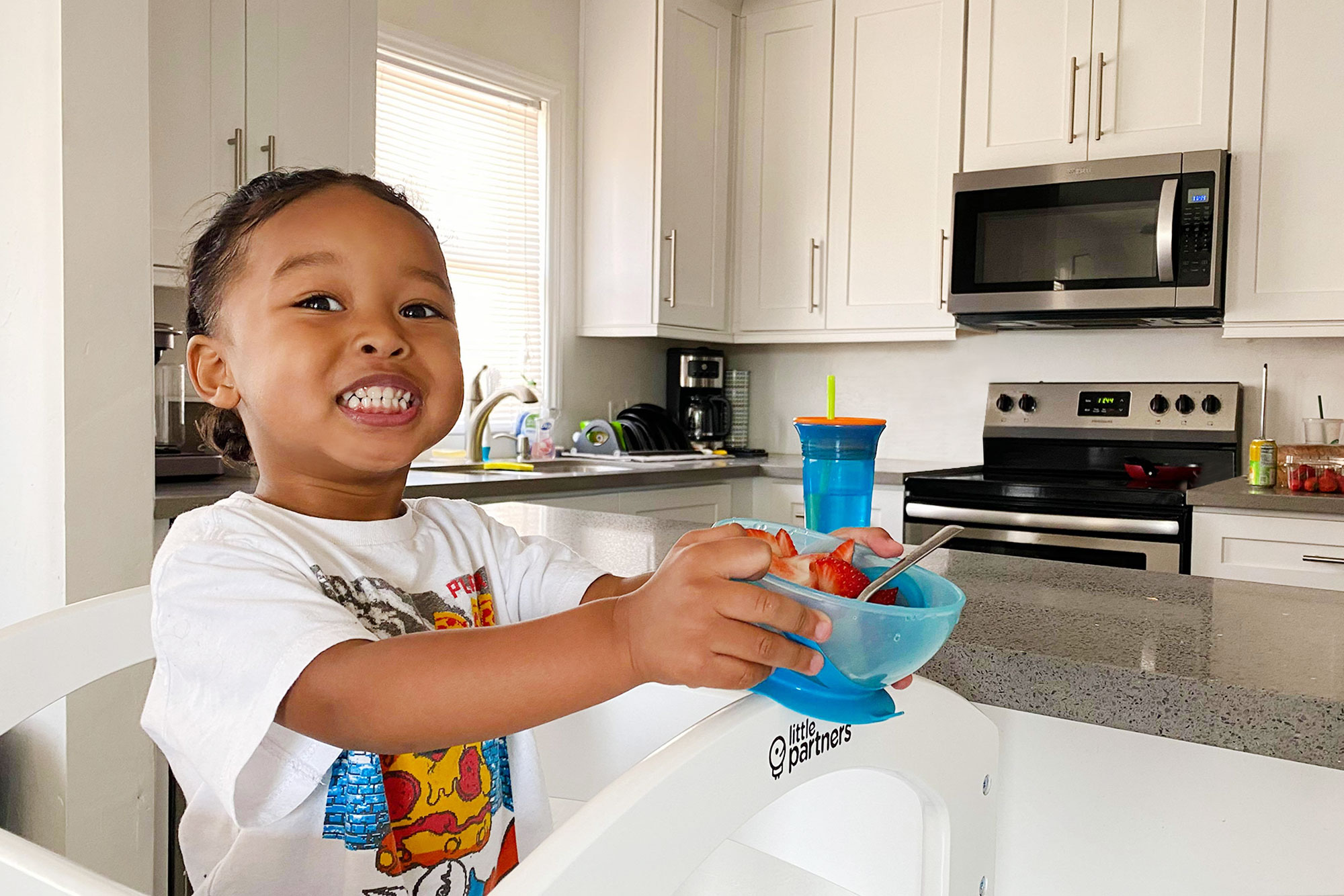 From what you can see here, our son Josiah King enjoys reaching for his bowl of snacks all by himself. He loves doing "big boy" things and showing us how independent he is. He honestly dislikes getting help these days and prefers to be guided on what to do. With a learning tower, we don't worry as much and in fact we even let him take initiative for certain responsibility such as putting away his snack bowl or sippy cups. When he does get to accomplish the "task" he would quickly exclaim "I did it, I did it!" with that big grin all over his face. This not only helps him feel like he is grown, but also teaches him how to be independent in a safe manner.
Benefits of a Learning Tower
There are many benefits to own a learning tower while you're raising a toddler. We love using our learning tower to help our son be a part of our everyday lives. You can use the learning tower to encourage your toddler to help in the kitchen during meal prep, among other things. Some of our favorite benefits of a learning tower include:
Makes Kitchen Chores Easier
Since your toddler is at an age where they're very curious about their world and oftentimes want to be with you, a learning tower will allow them to do so. Having a learning tower will keep your toddler safe from harm's way all the while allowing them to be up with you where they desire to be. This makes it easier to get kitchen chores done with a toddler contained to one area.

Makes Hand Washing Easier
While many parents have used a step stool to let their toddlers reach the bathroom sink to wash their hands or brush their teeth, a learning tower is more stable. This learning tower allows your toddler to be more independent and reduces the risk of them toppling over and falling while they're washing their hands or brushing their teeth.

Boosts the Chances to Learn
Lastly, a learning tower can boost the chances that your toddler starts learning things sooner. The use of this four-sided framed step stool helps give your toddler more chances to help in the kitchen and with other areas of life where they otherwise couldn't take part in. This means that your toddler will have more chances to learn basic skills independently quicker than a toddler who isn't using a learning tower.
Just to clarify, when it comes to using a learning tower you must remember that parental supervision is still and also a must. While it is more stable than a step stool and tends to reduce the risk of falls tremendously, your kid is still a curious toddler and could climb over the edge or fall over. For us, we enjoy having the tower a lot and it even gave our son the initiative to keep washing his hands and to brush his teeth all by himself. Getting him to brush his teeth twice a day used to be a chore and a battle, but not anymore. From his perspective, this task is now fun and entertaining too!
Little Partners also offers add-ons to their Learning Tower such as developmental activity board, silicone mat, learn and share easel, and even a playhouse kit that transform the tower to something even more fun -a popcorn & puppet show, or a lemonade & ice cream stand!!! With that being said, you'll quickly see that using a learning tower will help your toddler expand their skills and knowledge quicker than they would when using a basic step stool.
Also, if you do have an older toddler that has outgrown a learning tower, Little Partners also have a step stool that grows with your child. On that note, make sure to visit Little Partners website for their complete collection of products.
XOXO
Learning Tower
Little Partners
Little Partners Learning Tower