As a lover of all things cute and beautiful, I can say that one of the things that I look forward to doing as a mother is designing our little one's nursery. In fact, I was so excited that I started searching for pegs and ideas on how to decorate the nursery as early as my 3rd month of pregnancy! Personally, I don't really think we can be over the top when we've prayed and wished for this beautiful miracle for as long as I can remember.
During my search, I have stumbled across the creation and works of Lorena Canals. Her collection is made up of quirky, cute and whimsical rugs that would make a great addition to any nursery, no matter what your aesthetic and design goals are. More than the charming appeal of her products, the quality of her rugs is unmatched as well because they are handmade and are created using the best raw materials and natural dyes.
When we officially have seen the scan that verifies that we're having a baby boy (yay!), I knew right away that Lorena Canal's Puffy Rug in Dream Blue is the best rug for our little one's nursery. It will surely add a touch of whimsy and cuteness to the room. Who wouldn't want a cozy looking nursery anyway? I know for a fact I would love a relaxing spot to keep coming back to.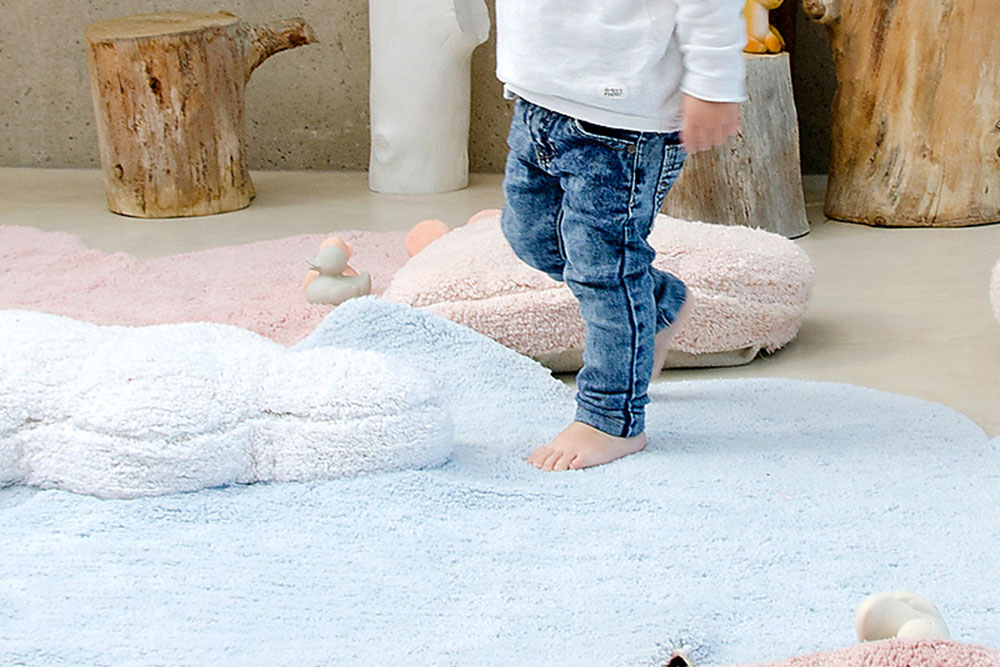 [image courtesy of Lorena Canals]
And the thing that I love most about the rug is that it is made of 100% natural cotton and colored with non-toxic dyes, making it safe for my little one to crawl and lie on (once he is old enough!). More than that, it is machine-washable, so I can easily wash it regularly to ensure that it will not collect any dust and dirt that may harm our baby boy.
Our Actual Nursery Look with Lorena Canals Rug
Another item that we have taken a liking to from Lorena Canal's collection is the Bubbly Basket in blue which is the perfect match for the dreamy rug that we have. It makes an excellent storage for our little one's stuffed toys and other small baby items that he may have.
Indeed, decorating the nursery has been made easy because of these products from Lorena Canals. I am sure my little one will get to enjoy the simple yet very cozy nursery that we have prepared for him.
Product[s] mentioned on this post were provided by the company or the PR that works in behalf of the company for my consideration. Press samples do not, in any way, affect the outcome of my product reviews. Post contains a link to a product page, shopping through this link will not result to a commission. I am not in any way compensated to write and publish this review. All thoughts and opinions are as always, solely my own. Thank you for supporting the brands that support AngelaRicardo.com
XOXO
Lorena Canals