Hello there fashion trendsetters! Ready to make a statement? Then join our fabulous giveaway of a Monopod & Selfie Shirt! Definitely a must have goodies for anyone who loves to take pictures and treasure memories. Check out the details below: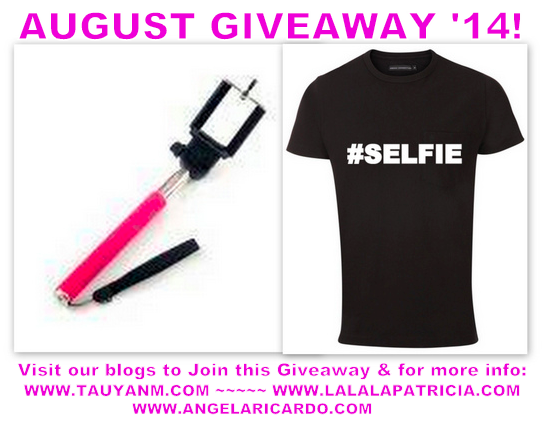 Monopod
#Selfie Shirt
The contest is open worldwide and the mechanics are simple … just follow the steps on the rafflecopter form and you're all set to standing a chance of winning this awesome giveaway.
MECHANICS:
1 winner of monopod + #selfie t-shirt
This giveaway is open International or Worldwide
You have to do all the mandatory steps on the rafflecopter below
You must leave a blogpost comment below. (See last part of the rafflecopter)
Sample of what is up for grabs (colors may vary)
This giveaway is not sponsored in any way by a company and the goodies (prizes) are lovingly provided by Mary Jane of Tauyanm.com so make sure to thank her and visit her blog too!
XOXO
contest
giveaway
monopod
selfie shirt