With only 7 more weeks and a few days left until the arrival of our precious miracle, I couldn't be more ready (and excited) to begin this new journey called parenthood. Throughout this journey (pregnancy including the IVF steps we took), I've counted down the days until I could finally hold my little guy in my arms and make our family of 2, a family of 3. Truth be told, while my hubby and I are filled with the greatest excitement and anticipation, we're also nervous as first-time parents.
This, I've been told, is completely normal and even mama's who have had multiple children get nervous with each new arrival. In an effort to rid ourselves of these nerves, I've been trying to prepare as best I can. Setting up the nursery, filling the closet and making sure we have the basic essentials are just a few things my husband and I have done to make sure we're prepared for anything baby Josiah might need, but with the advice from close friends/family, I've also started getting myself prepared as well.
It was mind-boggling, when preparing for the baby, to see just how many products there were to help ease the transition into parenthood but I think what surprised me most was the sheer amount of aids available to help make the transition to motherhood virtually seamless. Preparing for motherhood really got me thinking about other mama's who are in the same boat along with me, first timers who are experiencing the same excitement as well as trepidation.
Knowing there are many like me, I decided to put together a guide of sorts to help new moms transition to motherhood. This guide will include things for mama as well as for their new little ones and hopefully will help my fellow, soon-to-be mama's breathe a little easier!
Motherhood to Parenthood Essentials
OshKosh Baby Boy Apparel
OshKosh Baby Boy Apparel » Since I'm going to be a mama to a little boy in 7 weeks or less, I can't help but feel very ecstatic to start looking for fashion-forward clothing to style him with. For the mama's who are expecting a little lady or one of each for those with multiples, OshKosh also has some ADORABLE little girls clothes as well. That's right! OshKosh has more than just stock in baby boy apparel.
While this particular set isn't exactly for a newborn, it simply makes me look forward to upcoming stages. Think along the lines of mommy and me ootd's (outfit of the day)! Also, this particular brand is raved about due to its superior comfort and classic styles like overalls, polo's, bodysuits, and more. They even have the cutest little infant accessories, such as sunglasses! Rather than having to shop at multiple retailers for affordable, stylish clothing, you can find everything right at OshKosh.
Get $$$ off your next $40+ purchase by using the Online promo code ❝ OKBG3352 ❞ or Retail promo code ❝ 036992 ❞.
Boudreaux's Butt Paste
Boudreaux's Butt Paste » Even though Josiah will be our first child, I'm no stranger to hearing tales of diaper rash. Somehow, it seems like no matter how clean you keep your little one, you'll inevitably run into a diaper rash at some point or another during your journey into parenthood. Thankfully, I've heard amazing things as well as read glowing reviews about Boudreaux's Butt Paste. Even my friends swear that it is able to protect against chaffing and lockout wetness, this diaper rash ointment even earned 4 1/2 stars on Amazon, apparently for a good reason!
Playtex Maternity Shaping Foam Wire-free Nursing Bra
Playtex Maternity Shaping Foam Wire-free Nursing Bra » From an early age, I knew the ins and outs of nursing vs. bottle feeding infants. While I'm not opposed to bottle feeding, my husband and I have come to the mutual decision to breastfeed our little one and I've been told that comfort is key in this case. Affordable as well as adaptable to breast changes throughout pregnancy & breastfeeding, the Playtex Maternity Nursing Bra features high sides for more coverage and a smooth back to offer more stability to avoid strain and discomfort.
Mumbrella
Mumbrella » Even though summer is officially over and the rainy season will be drawing to a close, come November, the Mumbrella is an excellent accessory to have if you enjoy venturing out on walks with your new little one. Water resistant as well as giving covering from a 50UV coating, the Mumbrella will be your little one's best friend through summer and on through the wet months. From the top of the canopy to the clamp, measurements are 40″ so you'll get plenty of coverage, keeping mom (and even dad's!) cool and dry no matter where your travels take you!
The best thing about this umbrella is that it easily attaches along the handles of a stroller. With a push of a button, it stows away swiftly alongside the stroller. There's a small strap to help secure the mumbrella when not in use. No need to detach and re-attach as it can simply stay in place — making it available anywhere and everywhere!
Get Free Shipping on your next purchase by using the promo code ❝ BABBLEBOXX ❞.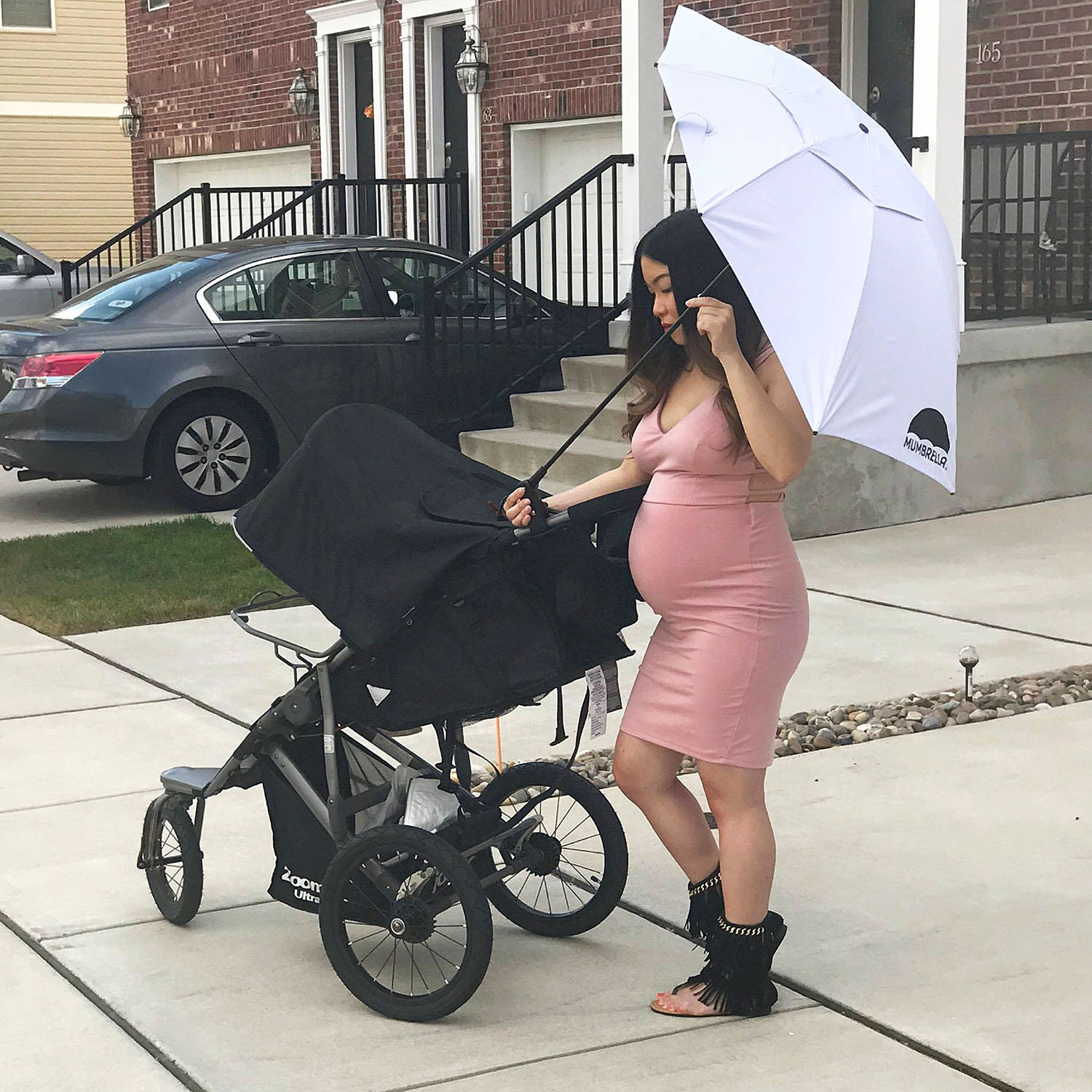 ❝ I paired the mumbrella with our Joovy Zoom 360 – The Jogging Stroller That Can Keep Up! ❞
Mineral 89 by Vichy
Mineral 89 by Vichy » I can't tell you how many times I've been told to look after my needs in addition to Josiah's once he arrives. Happy mama, calmer baby, or so I've been told … that being said, I've heard great things about Mineral 89. If you like to be pampered and are looking for an essential mama item for yourself for when your little one is occupied, then definitely look into this one. This light face moisturizer does wonders for hydration as well as helping reduce the effects of stress, fatigue and the effects of air pollution on the skin. For a vibrant, healthy glow, the $29.99 price tag is worth it!
Get $$$ off & Free Shipping on your next purchase by using the promo code ❝ BabbleBoxx ❞ between 9/1/2017-11/30/2017.
Hydra Bebe Body Lotion by Mustela
Hydra Bebe Body Lotion by Mustela » Having seen it first hand in the little ones of my friends/family, I know dry skin in infants is definitely a little distressing. Although it's natural, I've heard more than one mama lament about their little one's dry skin. For this particular issue, Hydra Bebe Body Lotion comes highly recommended. Its non-greasy formula soothes the skin and goes down deep to lock in moisture and protect against dry, flaky skin.
Get $$$ off your next purchase by using the promo code ❝ BABBLEBOX17 ❞ on MUSTELAUSA.com.
Lands End Diaper Bag
Lands End Diaper Bag » Welcoming a newborn can quickly become overwhelming. Preparing a diaper/go bag is the best way to overcome unnecessary stress especially for unplanned trips or travel. This diaper bag is perfect for every mom (as well as dad's) who are also always on the go. It is versatile, holds a lot of items and comes with a handy mat for your precious little one. For the trendsetters, Land's End carries various design and style to choose from. This would also make a great baby shower gift for those who just welcomed a new baby.
Being nervous in light of welcoming your precious little one into the world is a natural occurrence, even for expert mamas but that doesn't mean you can't-do all you can to prepare. Not only can you prepare by stocking up on items for your little one but you can also make the transition from motherhood to parenthood easier on yourself by making sure to grab a few mama essentials as well!
This post was sponsored by Babbleboxx. While this post is sponsored, all thoughts and opinions are as always, solely my own. Thank you for supporting the brands that support AngelaRicardo.com
XOXO
Babbleboxx
Baby Basics
Motherhood Essentials
Parenthood Essentials