Oh moon, your fallen tears have called to me!
Over time, the rough grain of sand slowly transformed to an object of great value and beauty – Pearls. Unlike any other gems, it is the only organic matter derived from a living creature – oysters and clams. This stunning number symbolizes purity, honesty and innocence.
Pearls have an unmatched beauty, and for many centuries it was considered to be the most valuable. I've recently been sent this breath taking White Freshwater Pearl Necklace by the Pearl Source. The moment I first laid my eyes on this necklace, I am completely enthralled by it.
This necklace is absolutely gorgeous and would not only make a great addition to a growing necklace collection but as well gifts to family, friends and other loved-ones! In fact this would make a great gift for Valentines! If you haven't had a chance to shop for a gift and are looking for last minute ideas or products to choose from, make sure to check out the Pearl Source's site www.thepearlsource.com to see their wide-range of beautiful timeless pieces.
Personally speaking, I prefer quality over quantity so I don't mind receiving a gift that is late as long as it is something that I can treasure throughout the years to come.
Details of the Finesse Clasp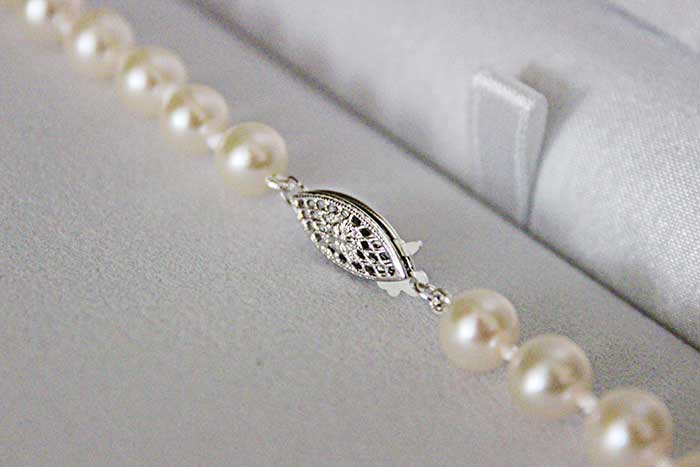 Necklaces can be customized from 20 beautiful assortments of clasp to choose from and ranges between $0 – $129. All necklaces are strung on fine silk thread & double-knotted. Just like the clasp, its length can be customized between 16″, 17″ (standard) up to 68″ and ranges between $0 – $399.
Certificate of Authenticity
All of The Pearl Source products comes with a certificate of authenticity, guaranteeing each shopper that the pearls and jewelry are 100% genuine. Certificates are signed by one of the company's pearl experts, and documents each detail like size, quality, luster and so much more.
Close-up of the Pearls
Each order from The Pearl Source comes with a 60-day money back guarantee and is carefully packaged in an elegant gift box. Feel free to leave some comments below if you have any questions.
FTC: Product[s] mentioned on this post were provided by the company or the PR that works in behalf of the company for my consideration. All reviews I publish are my own honest and unbiased opinion. Press samples do not, in any way, affect the outcome of my product reviews. Post contains a link to a product page, shopping through this link will not result to a commission. I am not in any way compensated to write and publish this review.
XOXO
Freshwater Pearl Necklace
Jewellery
jewelry
Pearl
Pearl Necklace
Pearls
The Pearl Source
White Freshwater Pearl Necklace