This Rouge Bunny Rouge Shimmering Luxe Balm in sip of pink helps heal dry chapped lips and helps nourish and restore to a healthier condition. Comes pre-packed with aloe and vitamin E to improve moisture and promote natural healing.
Rouge Bunny Rouge Shimmering Luxe Balm Overview
This Shimmering Luxe Balm applies clear and melts creamily leaving your lips with a soft dewy gleam. As seen on the photo below, I have swatched the balm over my hand [or back of my hand, whichever you prefer to call it] … and as you may see, this balm is transparent in color.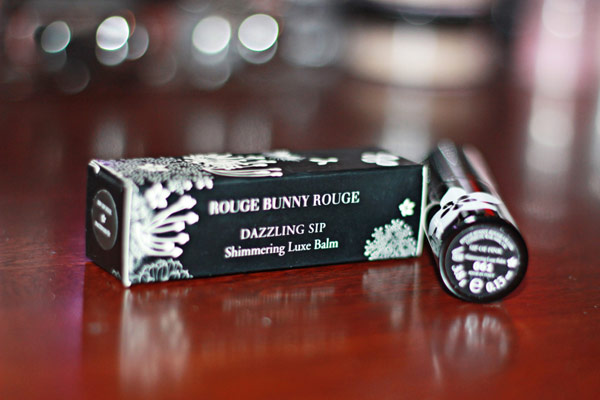 The way it looks is just like applying any other typical transparent lip balm [e.g. chapstick and burtbees] … the difference is that this balm comes in a beautiful packaging with additional actives like Triglyceride-packed formula.
Any diva [like yours truly] loves elegant products that at the same time delivers what it claims and promises. Rouge Bunny Rouge has given me exactly what I am looking for in a product. In my personal opinion though, the retail price of €23 can still be lowered to target more consumers so that they won't hesitate on trying out this balm. Once they do, they'd definitely know it is worth every penny. I don't mind paying a little extra, as long as I know that the product really works for me. On this case, it has exceeded my expectation.
– Packaging

– Product Quality

– Price
For best result, I highly suggest applying this balm under your typical gloss or lipstick. Look at it as if it's a primer for your lips. That way, it helps prepare your lips for a long day ahead with the proper nourishment.
Read more about the product: Shimmering Luxe Balm – Dazzling Sip
Retails for: €23.00
Read my other Rouge Bunny Rouge Feature:
Rouge Bunny Rouge Haul & Write-up
Rouge Bunny Rouge Double Duty Beauty Mirror
Rouge Bunny Rouge Aqua Primer Prelude in the Clouds
Rouge Bunny Rouge Shimmering Luxe Balm Dazzling Sip
Rouge Bunny Rouge Colour Burst Lipstick Nothing Unknown
FTC: Product[s] mentioned on this post were provided by the company or the PR that works in behalf of the company for my consideration. All reviews I publish are my own honest and unbiased opinion. Press samples do not, in any way, affect the outcome of my product reviews. Post contains a link to a product page, shopping through this link will not result to a commission. I am not in any way compensated to write and publish this review.
XOXO
dazzling sip
lip balm
lip potion
lips
lipstick
makeup
review
rouge bunny
rouge bunny rouge
rouge bunny rouge lip balm
shimmering luxe balm
skin care
swatch