Wouldn't it be amazing to be able to turn the clock back? To have fewer skin issues such as worry lines, frown lines, and even enlarged pores? I swear I look at my skin each waking day and wonder … how old I look like these days?
In case you aren't aware, I have an affinity for beauty devices. I loooove and have always enjoyed doing at-home treatments. Doing spa/beauty treatments at the convenience of our home is my way of unwinding. On that note, I have meant to share the latest addition to my growing collection, but I just couldn't find the extra time these days. I'm on the same boat as the majority. With everyone working from home and having their kids attending school remotely, stress can really hit the fan. Many moms are experiencing higher levels of stress and without the ability to leave the house due to the current restrictions, it can be difficult to find time for yourself.
Finally, today I'm sharing a fun way for moms to pamper themselves at home. Forget your woes, forget the stress, and indulge yourself with skin tightening and lifting with Silk'n Titan.
Silk'n Titan Skin Tightening and Lifting
You can be skeptical, or you can give it a try for yourself. Best believe, I am speaking from experience. This amazing product lets you feel younger amidst all the chaos you're dealing with.
All About Skin Tightening and Lifting with Silk'n Titan
This product is an anti-aging product that works with harmonizing-energy technology. You'll reduce wrinkles and tone your skin all at once. The beauty of this product is that you can pamper yourself at home, which is amazing since most of us are stuck at home right now.
The Silk'n Titan Skin Tightening and Lifting is meant to be used on all areas of the face and neck to help slow down the aging signs, make your skin appear younger, and rewind the time. The harmonizing-energy technology works from the inside out to repair collagen and elastin fibers.
Don't Let Lines Define YOU!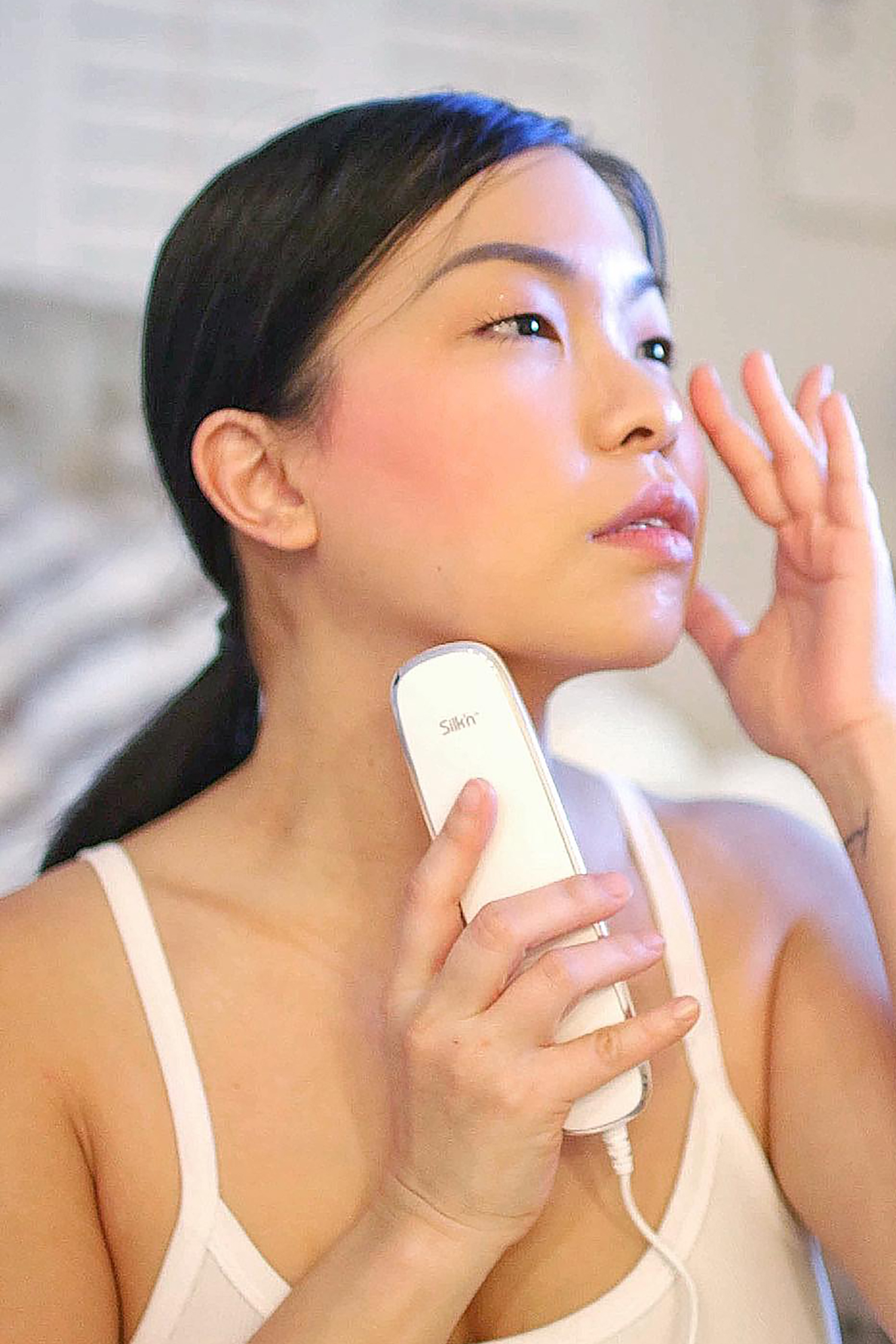 Ideas to Pamper Yourself at Home
Indeed this is a fabulous product to include with your at-home pampering. But why stop there? You can switch things up a bit instead of just going for a treatment. Here are other ways you can try to give yourself and your skin a much needed break …
Soak in a Bath
Grab your favorite book, a candle, and your essential oils to soak in a warm bath after the kids go to bed. You can dim the lights in the bathroom, fill the bath with warm water, and soak in your favorite essential oil blend as you relax reading a book to detach from the day's stress.
Binge-Watch Favorite Show
Another way to pamper yourself after the kids go to sleep is to binge-watch your favorite show. After a day full of watching cartoons and helping your kids with remote learning, now is the time to sneak in some of your favorite series on your live-streaming device.
The Benefits of Skin Tightening and Lifting with Silk'n Titan
Reduces wrinkles and fine lines around your eyes.
Tightens skin.
Reduces age spots.
Improves your skin's elasticity and structure.
No recovery time is needed.
Forget heading to the beauty salon when you're able to leave home, you can get pampered at home without the wait. Simply purchase your Skin Tightening and Lifting with Silk'n Titan device today and get ready to feel younger.
XOXO
Silk'n
Silk'n Titan