Troomi is a smartphone tailored for kids with parents AND security in mind. They offer a unique experience with their revolutionary phone that grows with your child! As a tech aficionado, I'm one of those modern parents who don't shy too far away from modern innovations. But what made us choose Troomi? Let's break down the details below …
As someone born in the late '80s and spent my tweens during the '90s while being raised in a third-world country (Philippines), I can safely proclaim that my childhood was not digitally influenced. In fact, I only managed to navigate the internet world through rental shops. Before entering college, the most high-tech items I had ever owned were a Tamagotchi, a Discman, and a MOTOROLA "talkabout".
There was NO SOCIAL MEDIA whatsoever on any phones. Plain ole' text messaging and calling. There was Friendster (founded in 2002), which was very popular amongst teens in the Philippines and a counterpart to MySpace in the US (founded in 2003). Then, during my college years, I finally managed to have my own entry-level computer (dial-up connection, topped up with reloadable minutes), an off-brand mp3 player and eventually saved enough to swap my old phone for a Nokia 6600.
Although technology has brought about innovation, social media has significantly transformed. While there are advantages to using social media, there are also drawbacks. As a parent, I am now more concerned about the safety of introducing children to social media platforms and believe that it is better to wait. But of course, we also must consider that kids need a way to contact their parents. This is why our family highly appreciates and recommends Troomi, a kid-friendly wireless service that also recognizes the same concerns and attacks the problem head-on.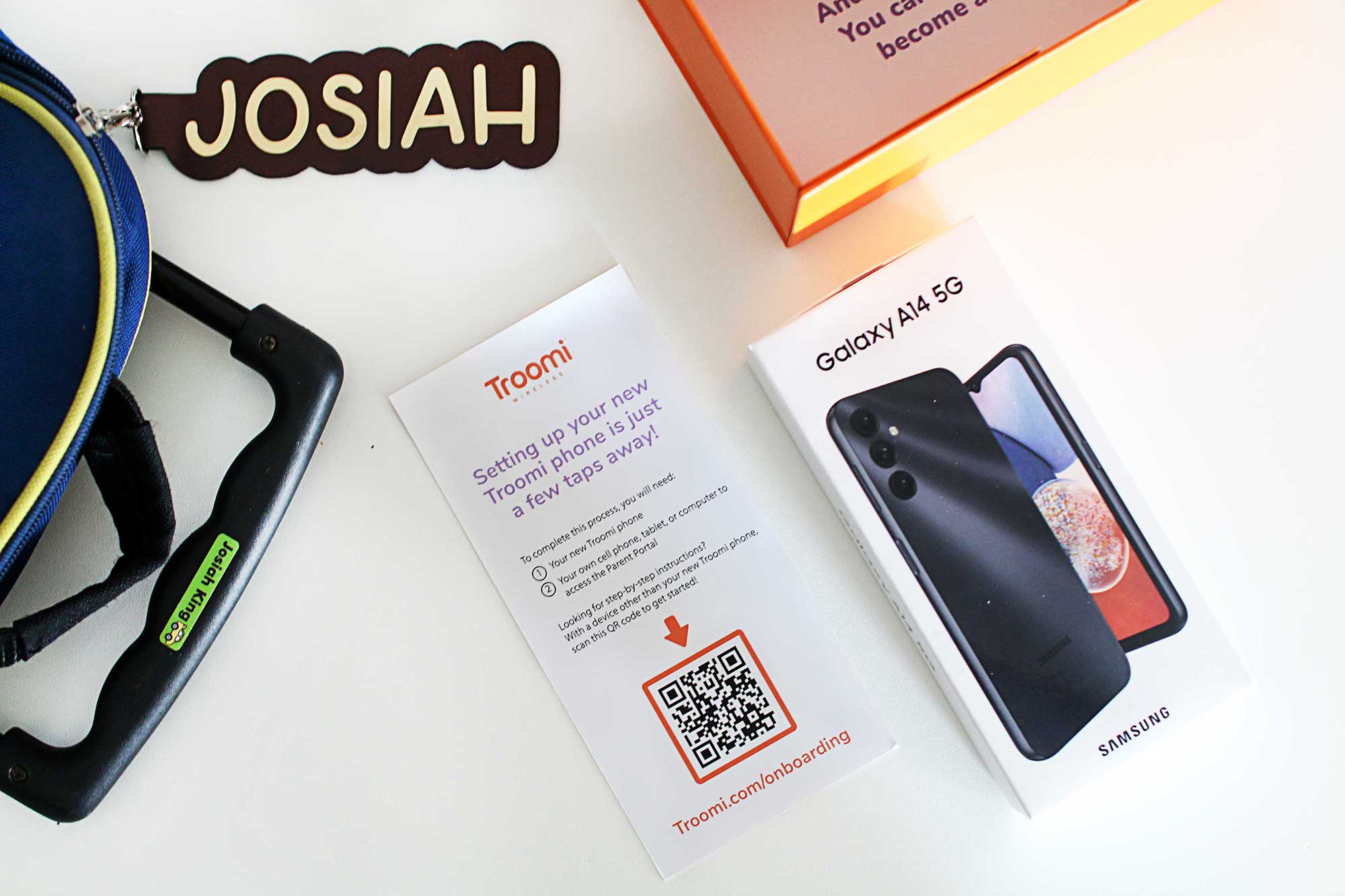 How Does it Work?
With Troomi, kids can have a smartphone that allows them to communicate with their parents, family/relatives, and even friends without worrying about the DANGERS OF THE INTERNET. It's hard to avoid kids wanting a smartphone, and it can be difficult to resist a child's request for one. However, it's important to remember that there's a LOT on the internet that is NOT suitable for them to see, and there are also potential drawbacks to owning a smartphone at a young age.
Key Features:
Camera – we love that it comes with an excellent camera for capturing memories.
APPS – all apps are SAFE and highly vetted. If an app is not available, you can send over a request, and they will review the app.
Messaging – text (and group text) are only allowed from the approved contacts.
PLAN – all Troomi wireless plans offer unlimited talk and text, but only with parent-approved contacts. No one else can message with this device (that's high-tech security and safety!)
… and you can even schedule access to certain apps! There is a lot more feature to discover that helps parent keep their kids safe as they navigate the digital world while letting parents maintain a level of control to keep their kids safe.
To top it all, with Troomi Wireless, parents get a Parent Portal to wirelessly add or remove certain features without fiddling with the phone's programming. The best part of it all is the Referral Center! You get a personal referral code to offer to your friends and family, which then rewards both sides!
If you're considering getting a phone for your little one, THIS IS YOUR SIGN to check out Troomi! As a new customer, if you use my referral code "GFW-YNU," you will get a Free phone! In return, I will receive a $25 Amazon Gift Card for everyone who signs up —no limit!
The catch? None whatsoever!
As the one referring new customers, I will get a reward per transaction, not per line.
As a new customer, your kid(s) gets the SAFEST phone for kids!
No hassle and no pressure whatsoever.
Troomi offers an all-in-one solution that covers everything from the carrier service to the device to the safety features. By signing up for Troomi's wireless service, you're fully committing to its ecosystem. Of course, I understand that everyone has their own preferences. What might work for our family might not be the best fit with yours. At the end of the day, there needs to be a RIGHT age to give your kid a phone or gain access to the internet and social sites. Everything in this post is from my perspective as to why I suggest waiting and why we love Troomi.
XOXO
Bark Phone
Gabb
Kid Safe
Kid Safe Phone
Kid Safe Smartphone
Kids Safe Phone
Pinwheel
Smartphone for kids
Smartphones
Troomi
Troomi Phone
Troomi Wireless