Lately, I have come to realize that I don't do as much of the things that used to bring me so much excitement during downtime. Now that I have some passive time while nursing Josiah, I have quite a bit of time to think and ponder. That's when it hit me … I have been so busy "adulting" that I literally have forgotten to give myself some much-needed "ME" time to allow myself to be happy. To live a little and enjoy. I have been so focused on working and taking care of everyone that I somehow lost a part of me in the process. No wonder I am feeling burnt out as of late!
Here's the thing, having a little me time doesn't have to be grand or tedious. In fact, what I used to do is simply pick up a book and read a novel, or even play a game on my phone. I stopped doing those too. Just like my love for drawing. Say what? Yep.
Here's the thing … I am a big fan of animes, and I love doodling them. It used to be an enjoyable hobby, but I've been so overwhelmed being a mom that I literally just knock myself off to sleep at the end of the day. I finally made up my mind to start doodling again. Only this time, instead of pen and paper, I figured I'd try something different. That is digital drawing. Except I'm going to need a device that will help me accomplish this goal, and Wacom is the leading brand for all things related to digital art.
Wacom Intuos Bluetooth Creative Pen Tablet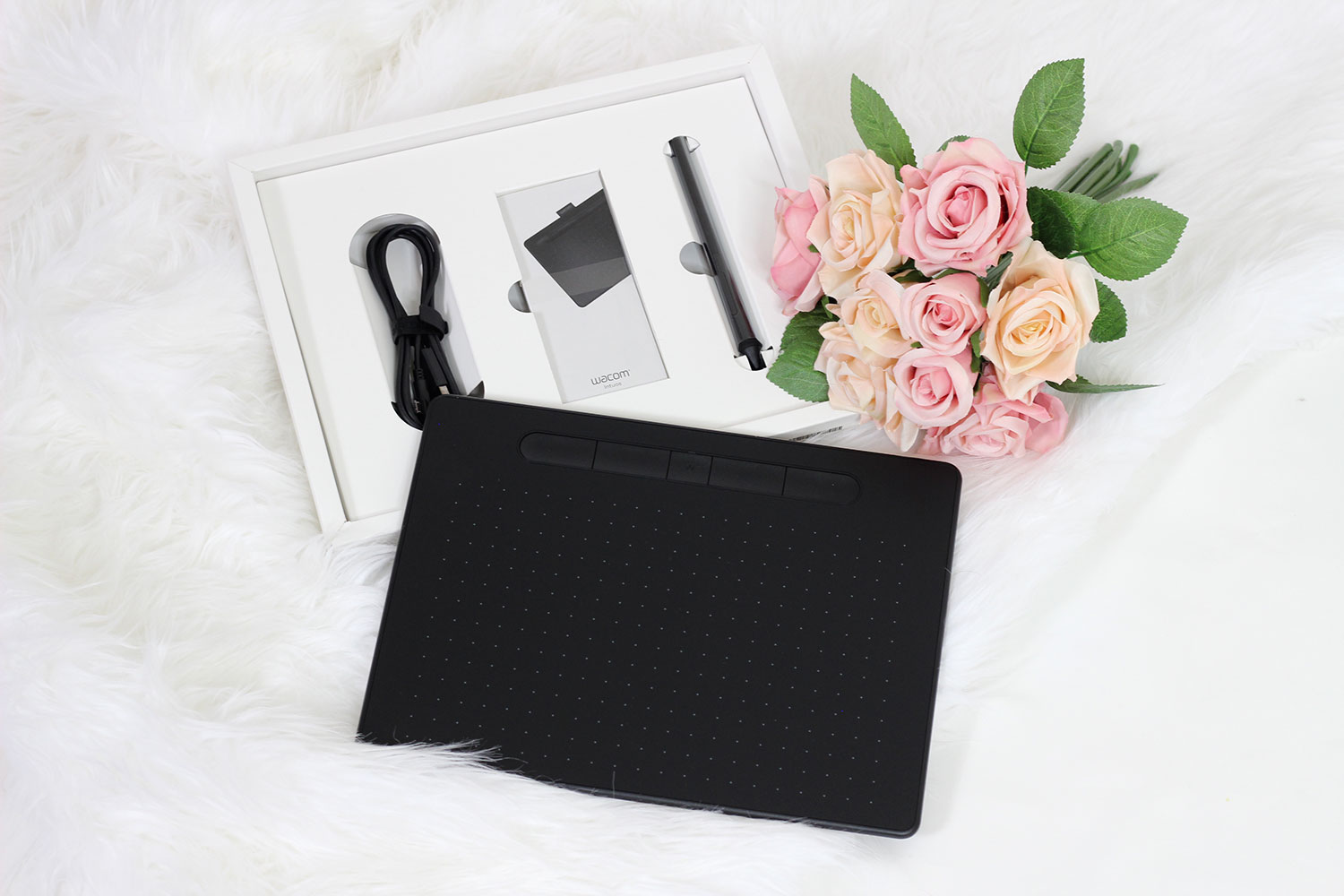 The Wacom Intuos is a pen tablet that you can use to draw and then mirror it into the computer. It is plugged into the computer and then allows you to create software designs using its pen. That includes painting, digital drawing, photo editing, and 3D sculpting. This is commonly used by graphic designers and artists but is also perfect for beginners like me. There are two sizes available, the small one and the medium one. The Wacom Intuos Bluetooth Creative Pen Tablet has three colors: black, pistachio green, and berry pink.
Unlike other pen tablets, Wacom Intuos is easy to set up and use, and it has applications that you can download for free. These apps are specifically built for creative designs and editing, and I find it helpful for newbies like me. Here's the apps you can choose from: Corel Painter Essentials (drawing/painting), Clip Studio Paint Pro with 2-year license (comic/manga), and Corel AfterShot (photo-editing).
What I love with my Wacom Intuos is that it feels so natural, you will never have a hard time transitioning from paper to tablet. Its pen is lightweight and tailored to sit comfortably in your hand, giving you the best precision and control. The pen is equipped with EMR or Electro-Magnetic Resonance technology and has 4,096 levels of pressure sensitivity providing you a natural drawing experience. Not to mention it is battery-free too!
When it comes to appearance, don't be deceived by its compact and super slim design. It might be thin and light, but it is durable and reliable. It has an edge to edge drawing area, giving you more space on your table while enjoying a wide drawing tablet. It has a built-in pen tray that holds your pen and a four ExpressKeys that allow you to work fast and easy. These ExpressKeys are programmable to do whatever you want. It's like a shortcut button. You set up the buttons, and you are good to go. It can do basic commands like zoom, undo, redo, select and many more. The best part here is that you can set up separate controls for each application, so you don't have to reset it everytime you switch the apps.
The Wacom Intuos is compatible with Mac or PC and can be plugged via USB. Or work wirelessly by connecting it via Bluetooth. It is easy to install, all you have to do is download its driver, and you are done.
Any drawing style is not a problem with the Wacom Intuos as it has a variety of Felt and Flex Nibs that you can choose from. Standard nibs are free, but you can avail Flex and Felt nibs separately. Flex nibs are flexible and soft, while Felt nibs are like felt pens.
To be frank, coming from a first-time users perspective, it was confusing at first as it has no built-in screen that will show you what you are drawing. Instead, you have to draw on the tablet while looking at the monitor instead of looking directly where you're "drawing". While it was an adjustment, it doesn't take long to get the hang of things. It might sound hard but believe me, it's not. In fact, it is fun to use, and quite addicting. Now I look forward to my next downtime so I can start drawing and sketching again.
Best Drawing Tablet for Beginners & Pros
For those of you who enjoy "adult" coloring books and find coloring relaxing, then this device is PERFECT for you!!! That's because you can create your own pattern and design to color. No more running out of pages. Wanna know a nifty trick? Try copying a pattern from a previous book or one that you are keeping an eye on. Then print! Now you have your own coloring sheets to use!
So what are you waiting for? Get yourself this awesome device at your local Best Buy and start creating your own Digital Masterpiece! Prefer shopping online instead? Best Buy's website got you covered too! Order yours here: http://bby.me/5pg36
The reviewer has been compensated in the form of a Best Buy Gift Card and/or received the product/service at a reduced price or for free. While this post is sponsored, all thoughts and opinions are as always, solely my own. Thank you for supporting the brands that support AngelaRicardo.com
XOXO
Creative Pen Tablet
Wacom
Wacom Intuos