Wedding websites are a great way for family and friends to stay connected with upcoming nuptials. With this, brides and grooms can keep their families apprised of everything from scheduling to location to how the preparations are coming along. It will be the perfect way to keep everyone in the loop in our modern world.
That being said, planning a wedding is stressful enough on couples, especially brides. There's no need to add extra strain to the situation. That means creating a website should be easy to put together. They should accentuate the wedding not make it a nightmare. So we brides-to-be need a way to put together a wedding website that's as easy as Go. GoDaddy that is. 😉
Wedding Websites Sound Great to Me
Anything wedding-related is inspiring. My husband and I never had the chance to have a wedding. You see, we were married in South Korea while my husband was stationed there. The marriage was a whirlwind, just like how you picture it from the movies. One day, we decided that we wanted to spend our lives together, and that was that. The way it works over there was very simple, all we had to do was declare we wanted to be married and sign the paperwork. It was an officiated paperwork session that took about 10 minutes. Nothing romantic or grand, but all that we needed.
While the legalities of our marriage might not have been anything special, our love is. Now that we have a baby on the way, we'd love to have a real wedding after our little bundle of joy arrives in November. That's why I'm so thrilled to have discovered GoCentral from GoDaddy – it makes building wedding websites so much fun and a total breeze!
Wedding Websites are Easy

With GoCentral from GoDaddy, brides can build their wedding websites in under an hour. UNDER. AN. HOUR! Yay!
You don't need any sort of previous web-building experience, and you don't need an entire weekend – or more – to get your website up and running. It's super easy, and it helps you make your wedding website part of the joy instead of a bridezilla-inducing nightmare.
GoCentral has everything to make a great site. It features contact forms to collects RSVPs, maps to help your guest get to the wedding, galleries to display all your great photos, email features to quickly reach guest. It even has tools so you can easily share information on registries, the bridal party, and of course, the big day! With GoCentral wedding websites can even be viewed on mobile devices. With everyone being on-the-go and keeping up with a busy schedule – mobile viewing is a MAJOR key these days!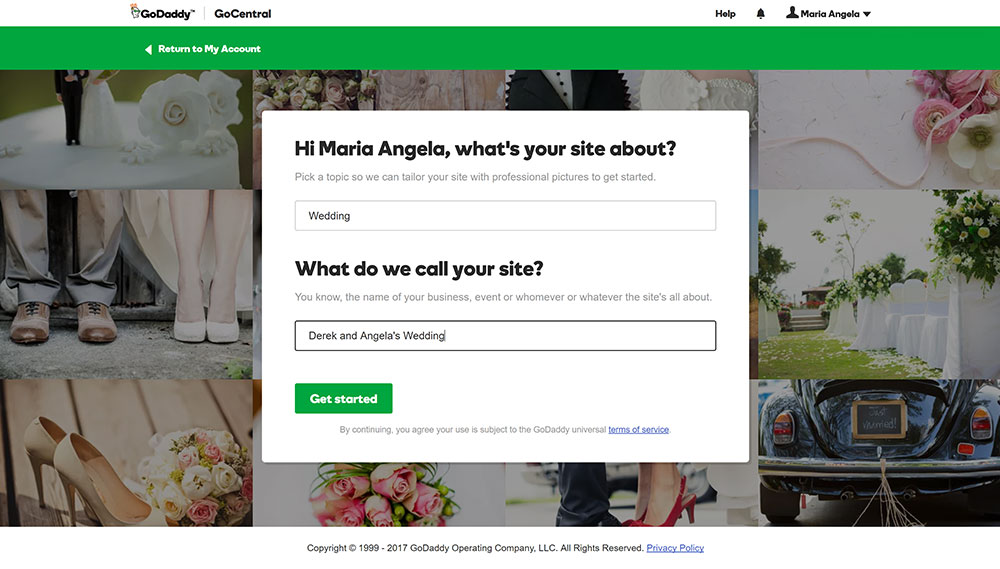 To top it all off, the biggest pluses to creating wedding websites with GoCentral – at least to this mommy/beauty blogger is Social media! With GoCentral from GoDaddy, wedding websites can be fully connected to all your social media channels. Keep your guests in the loop with Instagram hashtags, Spotify playlists, and customized Snapchat filters. Isn't that amazing?!
Wedding Websites are Easy and Fun with GoCentral
I am so in love with my husband and the baby growing inside of me. I know for a fact that our lives are going to be even more special and so full of joy and love. I want to commemorate all of that. I want our marriage and our lives together to have all the special moments. That's why I'm so excited for my husband and I to welcome our baby into the world and then to have a REAL wedding!
And I know that I'll be able to make a beautiful website with GoCentral from GoDaddy. Their complete suite of design tools and their ease of use make constructing websites quick and easy, and that's really the way it should be!
I was selected for this opportunity as a member of CLEVER and the content and opinions expressed here are all my own.
XOXO
GoCentral
GoCentral from GoDaddy
GoDaddy