This is a sponsored post written by me on behalf of Stonyfield Organic YoBaby Yogurt. While this post is sponsored, all thoughts and opinions are as always, solely my own. Thank you for supporting the brands that support AngelaRicardo.com
With Josiah King being our first baby, we can't help but be cautious and overprotective. Before his arrival, we were doing extensive research "literally" on everything. We warned family members that kisses aren't allowed, no to this, and no to that. I suppose you can say we were THAT kind of parents. The way we see it, it is better to be safe than sorry.
When it comes to feeding him, I faced many challenges right away. He wasn't latching properly. I ended up with Mastitis twice! My husband wanted me to give up breastfeeding altogether, but I was very adamant about it. Had to consult my OBGYN, doctors, lactation consultants, nurses, and even ask every mom that I know for tips. Months down the line, seeing how healthy our son is, I am convinced that all the pain I went through and sacrifices I have made were all worth it.
Before we even realized it, Josiah's pediatrician is already briefing us about solid foods! This, of course, warranted a lot of questions on our part. Why is it that some doctors recommend waiting for a baby to turn 6 months, while some are able to start as early as 4 months? That's because all babies are different. For Josiah, since he is healthy and showing early signs that he is ready for solids, his pediatrician recommended starting a few tastes here and there for fun. Mostly it is a learning experience so he can begin familiarizing himself with different flavor and textures.
Early Signs that Your Baby is Ready for Solid Foods
Significant Weight Gain
Drooling a lot
Sucking on fist
Smacking lips
Head Control
Growing Appetite
Sitting-up well with support (high-chair)
Interest in Food (watching what you eat)
Lost the tongue-thrust reflex (doesn't spit up or pushes food out)
Chewing or trying to mimic chewing
One thing that his pediatrician clarified is that just because he is ready for solids, doesn't mean it can replace breastmilk (or formula) in any way. It still remains the primary source of his nutrition. As far as recommendation goes, she suggests that we introduce vegetables first before fruits and to do it one at a time. This means one "flavor" for 2-3 days before switching to a different type of solid food to find out if there's an allergic reaction or sensitivities.
When making your own baby food, you have to watch out for the thickness and consistency. When in doubt, or if you don't have enough time to prep for your little one's food, there's ready-made jarred food you can avail on the local grocery stores.
Recommended First Solid Foods
Cereal (available in oats, rice or whole grain)
Vegetables (pureed carrots, sweet potato, squash, etc.)
Fruits (pureed applesauce, pear, banana, etc.)
Yogurt with Probiotics (available in plain, vanilla, or combination of fruits) *starting at 6 months
*** while cow's milk has to be ingested after babies turn a year old, yogurt is approved by pediatricians because of the live and active cultures that help digest the lactose.
Once Josiah started eating his first solids, we quickly realized how much he loves his vegetables! I know right? Sometimes he also enjoys fruits. As soon as he turned 5 months old, we also asked his pediatrician which brand she recommends. There was only ONE, and that is Stonyfield Organic YoBaby Yogurt. In fact, YoBaby is the #1 pediatrician recommended yogurt for babies as well as kids.
Despite the recommendation, we still did our own research. We discovered that it was the very first organic baby yogurt, that hit the shelves since 1999. That's 19 years! No wonder it is long trusted by pediatricians, and most importantly, by MOMS!
Want to know what else we love? Stonyfield Organic YoBaby has BB-12 probiotics! It helps promote happy tummies by promoting beneficial gut bacteria. For the mom and dads who are concerned with polystyrene packaging, I'm delighted to share that the cups are made with plant-based packaging. What about the contents? Because Stonyfield Organic YoBaby Yogurt is certified organic, it means it's always made without artificial flavors, preservatives, antibiotics, artificial hormones, toxic persistent pesticides, and genetically modified organisms (GMOs). This simples spells out AWESOME in so many words!
Josiah King Celebrating Another Milestone with Stonyfield Organic YoBaby Yogurt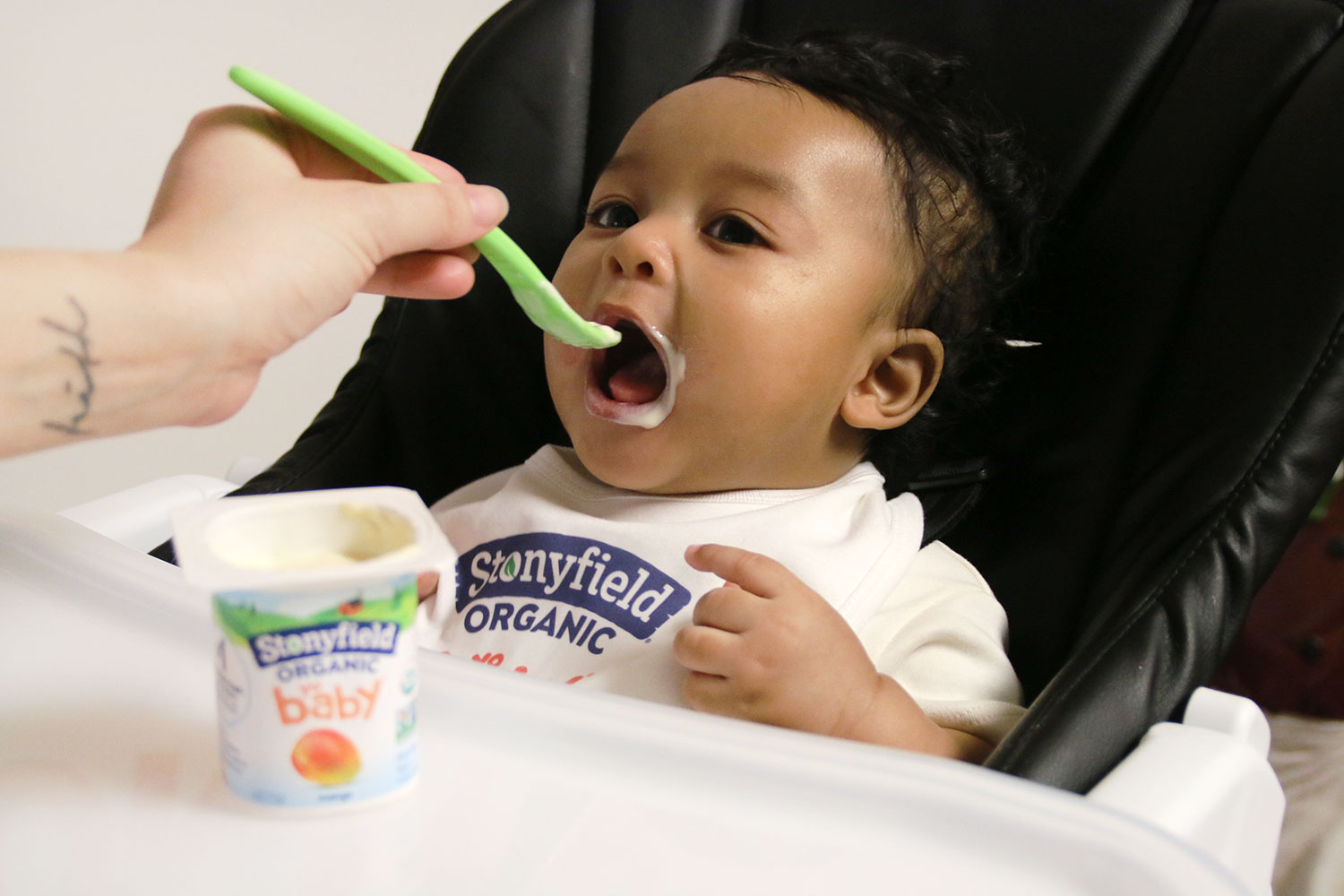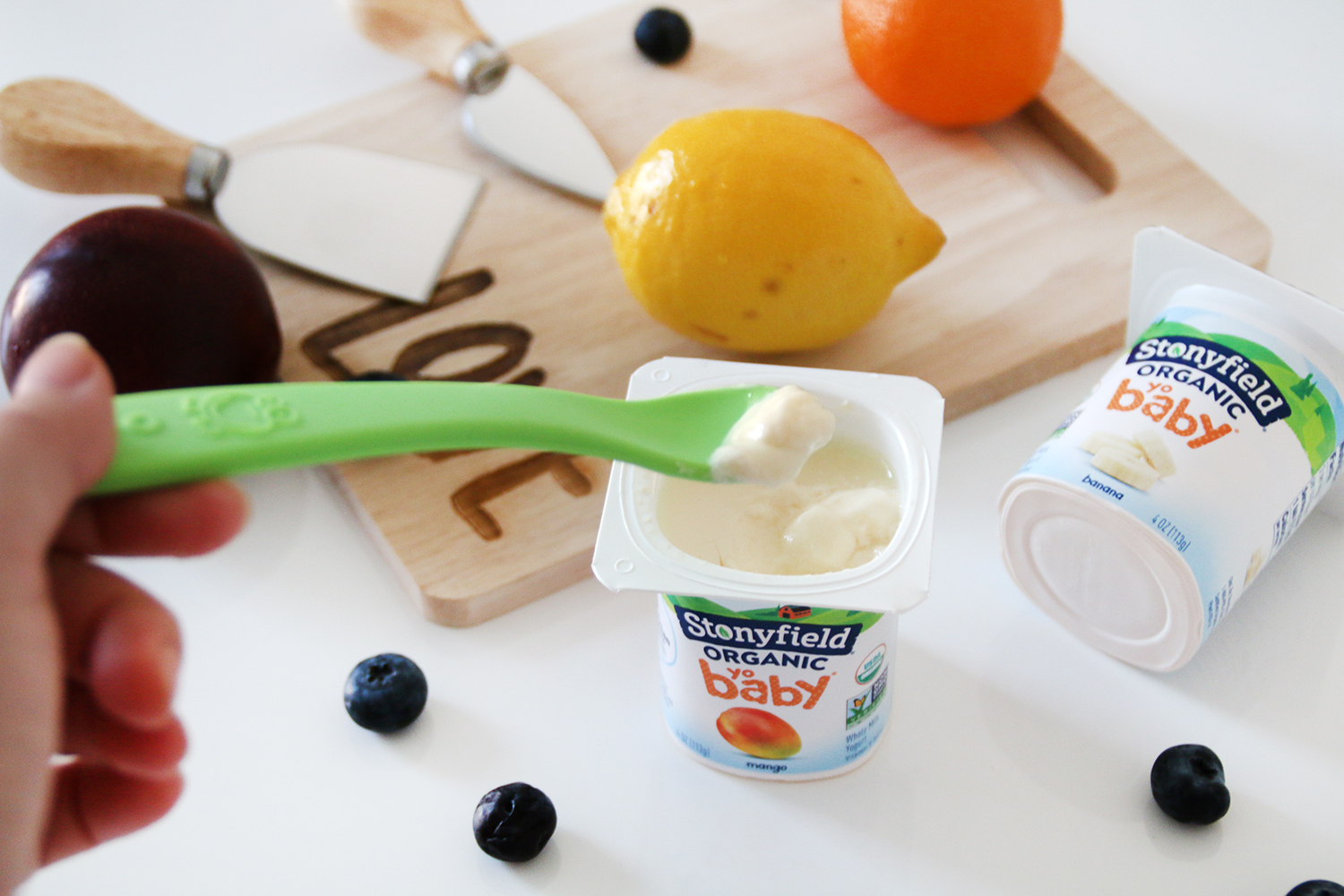 Is your baby starting to teeth? I'm sure he or she is getting fussy. Guess what? Problem fixed! Because the texture of YoBaby is thick and creamy unlike other organic baby yogurts that tend to be runny, you can freeze it with a soft serving spoon (made for babies), or a fresh food feeder with mesh. Dip, Freeze, and Serve! Let your little one enjoy a lick, suck, and taste while soothing their sore gums! Plus the fact that it also helps them learn to self-feed.
Is your little one ready for first foods? If not, don't fret! Just keep trying and give it time. All babies are different. What technically works for us doesn't mean will work for you at the same time or manner. Relax and know that you got this!
This is a sponsored post written by me on behalf of Stonyfield Organic YoBaby Yogurt.
XOXO
Organic Yogurt
Stonyfield
Stonyfield Organic YoBaby Yogurt
YoBaby Yogurt