So Valentine's day is literally days away!!! Who else is excited? I normally don't celebrate occasions … not even my birthday for that matter. But now that we have Josiah King, I would just about pick any event as a reason to celebrate and make our little one smile. Another thing that I look forward to Valentines is the "acceptable" excuse of indulging in some sweets.
Okay, so here's the thing … I already munch on quite a few sweets regularly. I happen to have a sweet tooth, and it is just quite hard to resist. So I had to figure out a way to satisfy my cravings without having to take a trip to a sweet shop, bakery, or grocery store on a regular. I mean, let's be practical here … those sweets can quickly add up in cost! So for today's post I am sharing one of my favorite and well requested Love Inspired Valentine Cupcakes. Ooooh I tell ya, you're going to love this a bunch!!!
Ready? Let's get started then …
Love Inspired Valentine Cupcakes
Ingredients:
1/2 C. milk
1/2 C. sour cream
3 tsp. vanilla extract
3 egg whites
3/4 C. butter, melted
1 tsp. baking powder
1/2 tsp baking soda
1 C. granulated sugar
1 2/3 C. all-purpose flour
vanilla frosting, any brand
10 oz package of Wilton bright pink candy melts
10 oz package of Wilton light pink candy melts
X mold
O mold
Heart mold
2 small sandwich baggies
Kitchen scissors
Directions:
Preheat the oven to 350 degrees.
Combine the butter, egg whites, sugar, sour cream, milk and vanilla extract.
Fold in the flour, baking soda and baking powder.
Line a 12 count muffin tin with cupcake liners.
Fill each muffin well about 1/2 way with cupcake batter.
Bake 18-20 minutes. Insert a toothpick around 18 minutes, if it comes out clean the cupcakes are done.
Remove the cupcakes from the oven and let cool completely.
While the cupcakes are cooling pour each of the Wilton candy melt colors into separate microwave safe bowls.
Place each bowl in the microwave one at a time – heating for 30 second increments, stirring occasionally until melted. Let cool a few minutes.
Scoop the melted chocolate into 1 sandwich baggy.
Snip the corners of the baggies and gently squeeze the melted chocolate from each baggy into your silicone mold filling the X's, O's and Hearts.*
Let the chocolates set. To speed up the setting process you can place the molds in the fridge for 10-15 minutes. Repeat this step for as many chocolates as you need (you may need to re-heat the candy melts)
Generously frost each cupcake with vanilla frosting.
Gently pop the chocolates out of the silicone molds and place one on top of each cupcake.
*If you don't want to use a sandwich baggy, use a small spoon to scoop the melted chocolate into the silicone molds.
*Makes approximately 12-14 cupcakes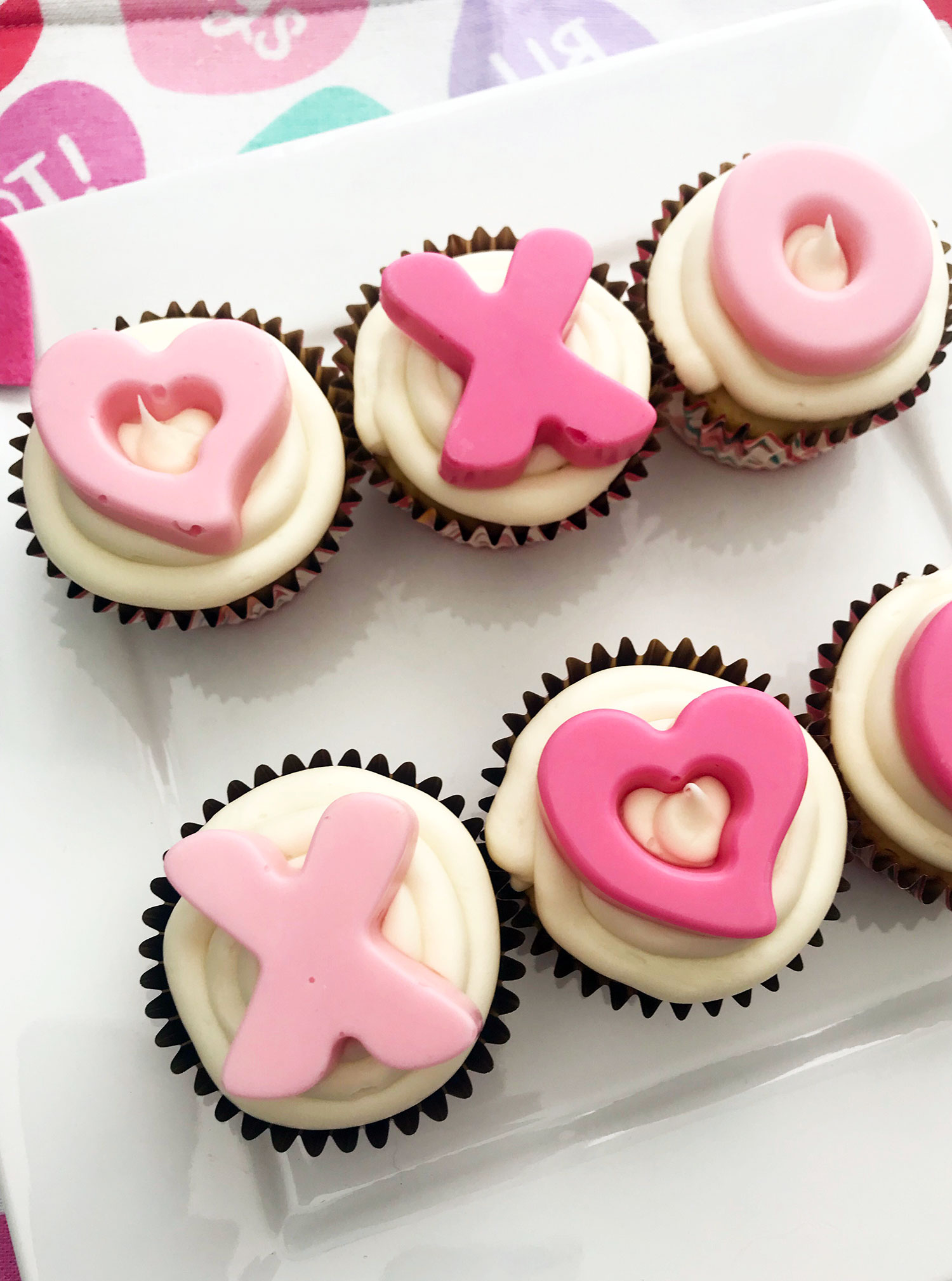 Amazon Links:
XOXO – Love Inspired Valentine Cupcakes
Now that you've seen how these cupcakes turned out … what do you think? I honestly think they look sooo adorable. Too cute to eat, but too delicious not to enjoy. Let me know if you've given it a try!
XOXO
dessert
valentines cupcake