Boyf and I recently went out to grocery shop and I was able to add a Nail Polish Haul. Nothing big or fancy, I simply asked if I can add the two nail polish to our cart and he didn't mind at all. Plus the fact that it's not expensive. 😉 I got Sally Hansen Hard as Nails, Hard as Wraps powerful acrylic gel and a new shade that just came out from Revlon Heavenly 770 nail enamel/vernis.
[DDSPG_Gallery id="1″]
Sally Hansen (www.sallyhansen.com) is one of the few drugstore brands that I often re-purchase. Sally Hansen have been my go-to brand when it comes to nail hardener, acrylic gel top-coat, french tip manicure and some nail polish pen. I love their regular nail polish line and have no problem with the quality. In fact, I have quite a few red nail polishes in different shades from Sally. Somehow I just couldn't resist collecting Sally's nail polish in red.
I don't often purchase Revlon nail polishes, but when I have checked their available polishes (www.revlon.com) I found quite a few that I really like. Most definitely I'd start purchasing more Revlon polishes to try it out. In the meantime I had boyf purchase the Heavenly #770 shade. This particular enamel isn't a typical nail polish but more like a top coat. This polish with add shimmer with its glittery content and leaves nails with a milky and sparkly look.
Revlon Heavenly #770 Nail Polish / Enamel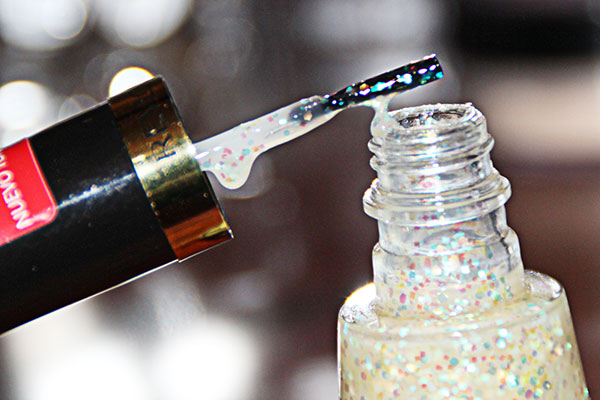 Since it is my first time to try this product out, I was worried that it may come out looking weird and uneven because of the glitters. The brush does hold on to quite a clump of product and applies quite thick. It takes some getting used to, before getting the hang of taking just the right amount before applying to nails. Here's a photo of a finished manicure topped with Revlon's Heavenly #770 enamel.
Topped with Revlon's Nail Polish / Enamel
After a few practice it gets easier. My first try wasn't so bad. I actually love how it turned out and made my nails look posh and chic. Next time I just hope it comes out a lot more smoother and even.
enamel
haul
lacquer
manicure
nail enamel
nail gloss
nail lacquer
nail polish
nail polishes
nail varnish
nails
pedicure
revlon
sally hansen
swatch