When I switched my phone to the iPhone 6 plus I knew right away what I am getting myself into. Let's admit it, all devices that had just been launched don't have much option when it comes to casing. Sure, I've seen the otterbox, and all the other big brands … but none of them have a casing that suits my style and budget.
Preferably, I want a phone case that is both cute and sturdy. Of course I would still want my phone to be protected and if I can have both … why not? Which is why I am quite thrilled to share my feature today … "Fashionable iPhone 6 Plus Cases" that don't suck!
That's right! These cute cases are phone the iPhone 6 Plus. Now my phone don't feel so naked … and unprotected. For a while there I really thought I have to settle for less. Now I don't. Check out my highlights below for a detailed review of each case.
Golden Glitter Sparkle
This glamorous design is perfect for the diva who wishes to make a statement in all aspect. Yes darling, you can now let your phone do all the talking. The golden glitter design is glitzy enough to make it stand out but not too flashy. Just enough so it won't be over the top. Perfect for every woman who loves to party or attend after work events and gathering. Check out the case here.
Colorful Stripe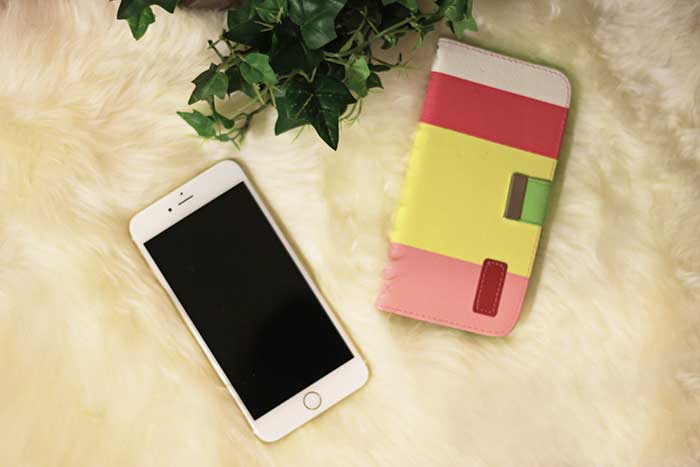 Need a design that is suited for all outfits and yet trendy enough to embody style? Then this colorful stripes case is the perfect partner in crime. Not too bold, but not boring neither. Suitable for anyone in school or at work. Let's just say it is "design-friendly" for all ages. Additional plus for this case is having a detachable wrist strap that easily comes on or off. Check out the case here.
Elegant Rose Flowers
For the feminine and nature lover this case is the best choice out of all 3! Its flower print and creamy light green background is very easy on the eye. This casing is not only eye catching for its design but as well for its overall quality. I've seen high end cases and for someone who is looking for an alternative this case became an instant favorite. It fits my phone perfectly while making sure it is well protected with its jelly like material. Check it out here here.
Overall I really like the cases. The gold case speaks for my personality the most while the flower case is more of my type for its sturdiness and protection. All the iPhone 6 Plus case featured on this post retails for $9.99
XOXO
iphone 6 plus
iphone 6 plus case