That's right ladies (and gents), the popularized "Gladiator" heels is now available for purchase at a much affordable price. Say goodbye to dreaming of owning a pair and make it happen with Pink Basis. No hefty price that will cost an arm and a leg and Pink Basis even got the quality covered!
I've heard the saying "You get what you deserve" and I really believe more often than what i would admit. Upon receiving this pair of shoes I was quite skeptical if I would even try it out. Somehow I finally mustered up the courage to try walking around with them heels … and guess what? … them shoes are bad! The quality is absolutely on point. Definitely way worth the money. Check out my outfit photos below featuring more of Pink Basis "Alba" heels.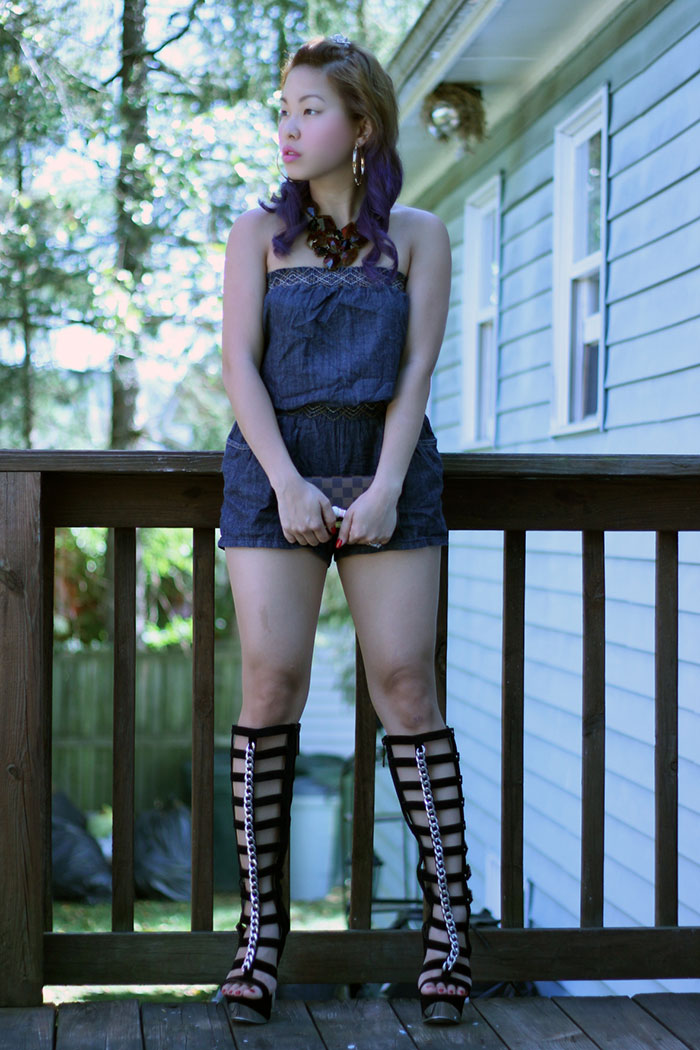 Pink Basis Faux Suede Chained Gladiator Heels
Details of my outfit: I've decided to wear a "neutral" chandelier necklace that doesn't stand out too much but adds enough statement to my overall look. I didn't want anything too flashy as that would steal the attention away from my Gladiator heels. For the accessories, I've chosen to use my Louis Vuitton wallet and worn a denim romper. Last but will never be the least will be the fabulous Pink Basis footwear.
Overall, the heels is very flashy. Not recommended for daily wear of course especially because of the height but if you're into making a statement, then this number just might be a perfect match. Personally I love this fancy gladiator heels and I can't resist wearing it on my engagements like date with my beloved other half, friends and when attending events. In fact I even wore this pair when I attended the Allure & Nexxus event in New York City!
Pink Basis is a site that I would definitely recommend to check as their products are of high quality and definitely worth every penny. In fact the whole shop offers affordable items to shop for. The website is very easy to use and have free shipping option for all US orders above $50 – simply use the coupon code "FreeShip" and you're good to go. If you do shop at Pink Basis feel free to let me know how your transaction and experience went. For any questions regarding the Gladiator heels feel free to let me know and I will try my best to answer them as soon as possible. xx
Check out Pink Basis on their social networks:
Facebook: https://www.facebook.com/pages/Pinkbasis/752538641426103
Twitter: https://twitter.com/thepinkbasis
Instagram: http://instagram.com/pinkbasis
XOXO
Gladiator
Gladiator Heels
Gladiator Sandals
Pink Basis