This post is sponsored by BabbleBoxx. While this post is sponsored, all thoughts and opinions are as always, solely my own. Thank you for supporting the brands that support AngelaRicardo.com
Got bored kids at home? Does your little one(s) feel stuck with nothing to do? Welcome to the club! It's hard because kids these days feel more inclined to be glued to screens and devices. Hence the reason for parents scrambling for ways to bust their kids' boredom.
On this post, I've shared a great list of BOREDOM busters for kids to enjoy. It's honestly my go-to and personal favorite to making sure my son is also LEARNING while having FUN!!! The big plus is that these aren't JUST toys. It's a collection that highlights fun family games to amazing quiet time activities. It also focuses on STEM activities, features arts and crafts, as well as promotes ways to keep them active!
Just so you know, these are also my secret weapon to help me multitask at home and get more things done. Ready? Let's get started …
Disney Hits by Disney Music
Ready to bust a move? Tune in and groove? Just as Disney is the happiest place on earth, Disney Music is the equivalent of it for the happiest playlist on earth! It is available on all music streaming platforms such as Amazon Music, Spotify, Apple Music, YouTube Music, and Pandora). In case you didn't know, I am a big Disney fan. I love everything about Disney, and I can't wait to introduce all the characters to our kids! Even take them there someday. What I honestly love about Disney Music is the ability to play songs I grew up singing along to along with the latest instant classics!
Our son Josiah King surely has lots of fun grooving to Disney Piano and Disney Junior, but there's more!!! Even our newborn gets to join in on all the fun with playlists from Disney Lullaby.
Don't forget to DOWNLOAD the Disney Hits Playlist: disneymusic.co
DOWNLOAD the FREE Disney Activity Sheets ​while listening to Disney Hits: disneyjuniormusic.com
Feeling Through Colors Activity
from Action For Healthy Kids
Kids being kids, they can easily be affected even with the slightest change in their routine. The way things are nowadays, I am not surprised if they are feeling quite uncertain and don't quite know how to express their wide range of emotions. Action for Healthy Kids provided the "Feeling Through Colors" activity to share how they are feeling during this time.
Also, you can check out more digital and online resources from Action for Healthy Kids to help YOU and your kids battle boredom, support virtual learning, and keep the little ones physically and emotionally healthy at home.
Here's an additional resource to check out from Action For Healthy Kids: https://www.actionforhealthykids.org/colors
A Child's Introduction to the Night Sky
The Story of the Stars, Planets, and Constellations-and How You Can Find Them in the Sky
Looking up and enjoying the stars in the sky used to be a thing when I was growing up. There wasn't much to do back then if I recall correctly. I was very interested to know more about the constellations, the history, and whatnot, but I didn't have the resources. Thus the reason for my extra excitement to have "A Child's Introduction to the Night Sky: The Story of the Stars, Planets, and Constellations –and How You Can Find Them in the Sky from Black Dog & Leventhal" included in this list to bust boredom.
Not only will you spark their imagination, but the kids also get to learn too! This book comes highly recommended from my fellow moms, too, as it is STEM aligned, and each copy includes a star finder wheel and glow-in-the-dark stickers. Simply put, this is Astronomy for Kids that reveals what astronomers have learned and are still discovering, what astronauts and scientists explore, and what readers can find by gazing up into the sky at night!
Magic Sketch™ from Boogie Board
Call me old. Color me crazy, but this Magic Sketch is absolutely Ah-mazing!!! Where was this when I was growing up? I remember the ever so popular magic slate pads during the early '90s. Those were the bomb back then. This innovative electronic art kit by Boogie Board, however, is the perfect solution for having ways to entertain without the screen time and still techy enough!
Kids and adults alike will find this super entertaining. It legitimately delivers endless fun. It writes electronically and erases at the touch of a button. If you have a curious toddler, this is PERFECT because it's mess-free! Unlike pens, crayons, paints, whiteboards, or markers, there's no mess to clean up and no furniture or walls to touch up later on.
Get 10% off any orders with promo code: WMBBX2BQDSZZH
Promo Terms: Valid thru 10/02/20. Valid one time per household.
The Feel Better Box from Open The Joy
Is your kiddo under the weather? Stuck at home and feeling lonely? Then you need to check out Open The Joy and The Feel Better Box. As a parent, I can't stress enough how much we LOVE this and can't reiterate enough that EVERY PARENT needs this in their arsenal. The Feel Better Box is the first-ever "Feel Better Collection" to combat ANY boredom blues!
Best believe that this collection comes with 100+ Boredom Busters that would surely keep kids entertained for countless hours while learning. There's a variety of activities ranging from coloring activities, magic tricks, to origami and incredible conversation starters to get families bonding.
Get 10% off your order with promo code: boredombuster
Promo Terms: Valid thru 06/01/20.
SmartGames
SmartGames have innovated the way we see playtime and puzzles. Both Smart Farmer and Jump In' are STEM-based activities that promote skill-building such as planning, logic, and so much more!
Smart Farmer from SmartGames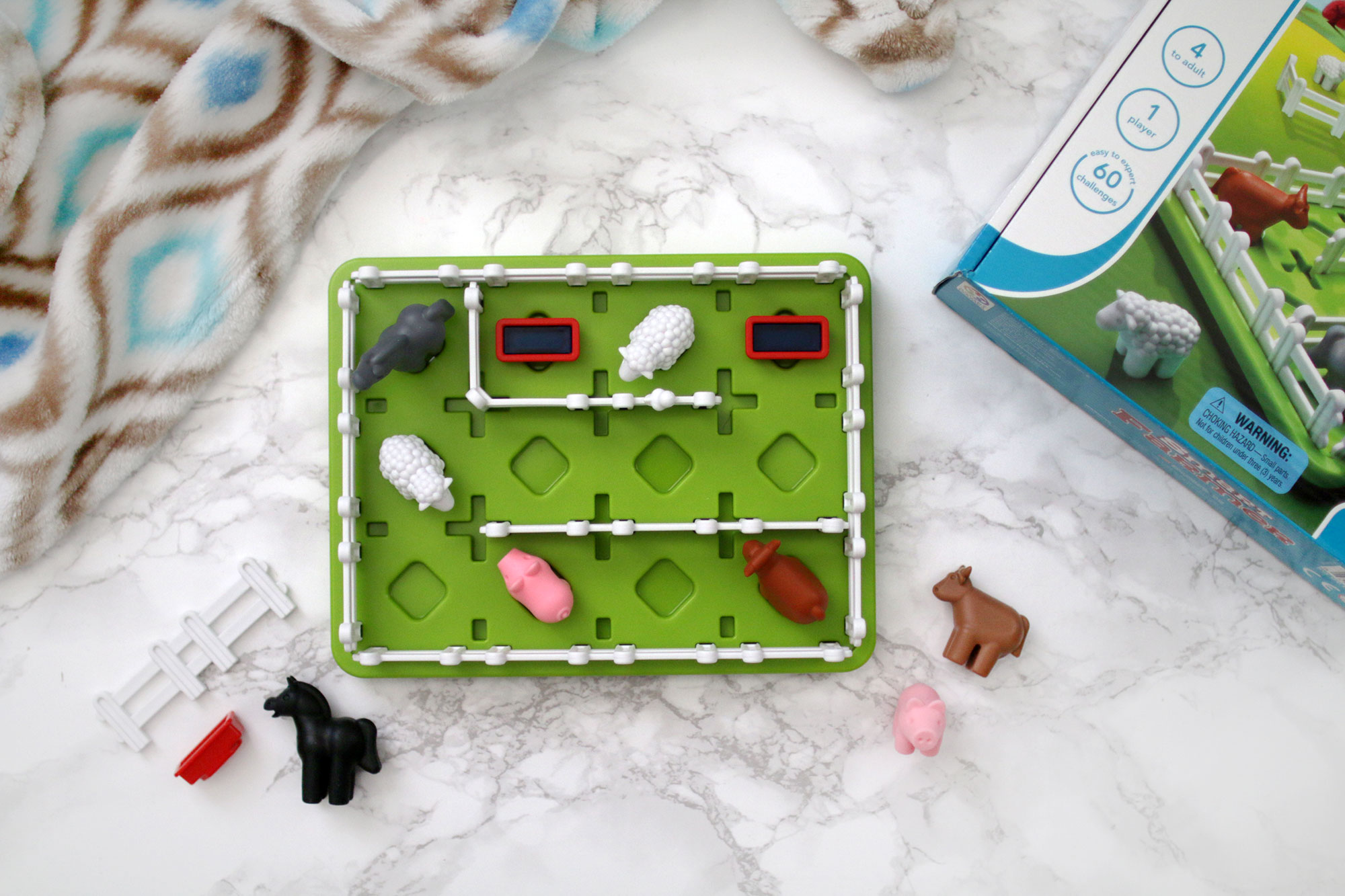 Smart Farmer features 60 challenges and delivers a creative twist to the traditional puzzles. It promotes problem-solving skills as the player helps the farmer separate the animals on the farm. As straightforward as it may sound, it requires a lot of concentration and quiet time, too (which is always a major bonus point in our household).
Watch: "How To Play SmartGames Smart Farmer"
Jump In' from SmartGames
SmartGames Jump In' is a tremendous multi-level boredom buster that you can easily take anywhere with its self-contained, compact, portable case. It's as easy as closing the container and tossing in a go-bag without having to worry about losing any pieces! It's not just a travel game but a family game altogether!
Watch: "How To Play SmartGames Jump In'"
Get 10% off any orders purchased in their Amazon store with promo code: 10SMART2020
Promo Terms: Valid thru 05/30/20. Valid one time per household.
KidiGoTM Walkie Talkies from VTech®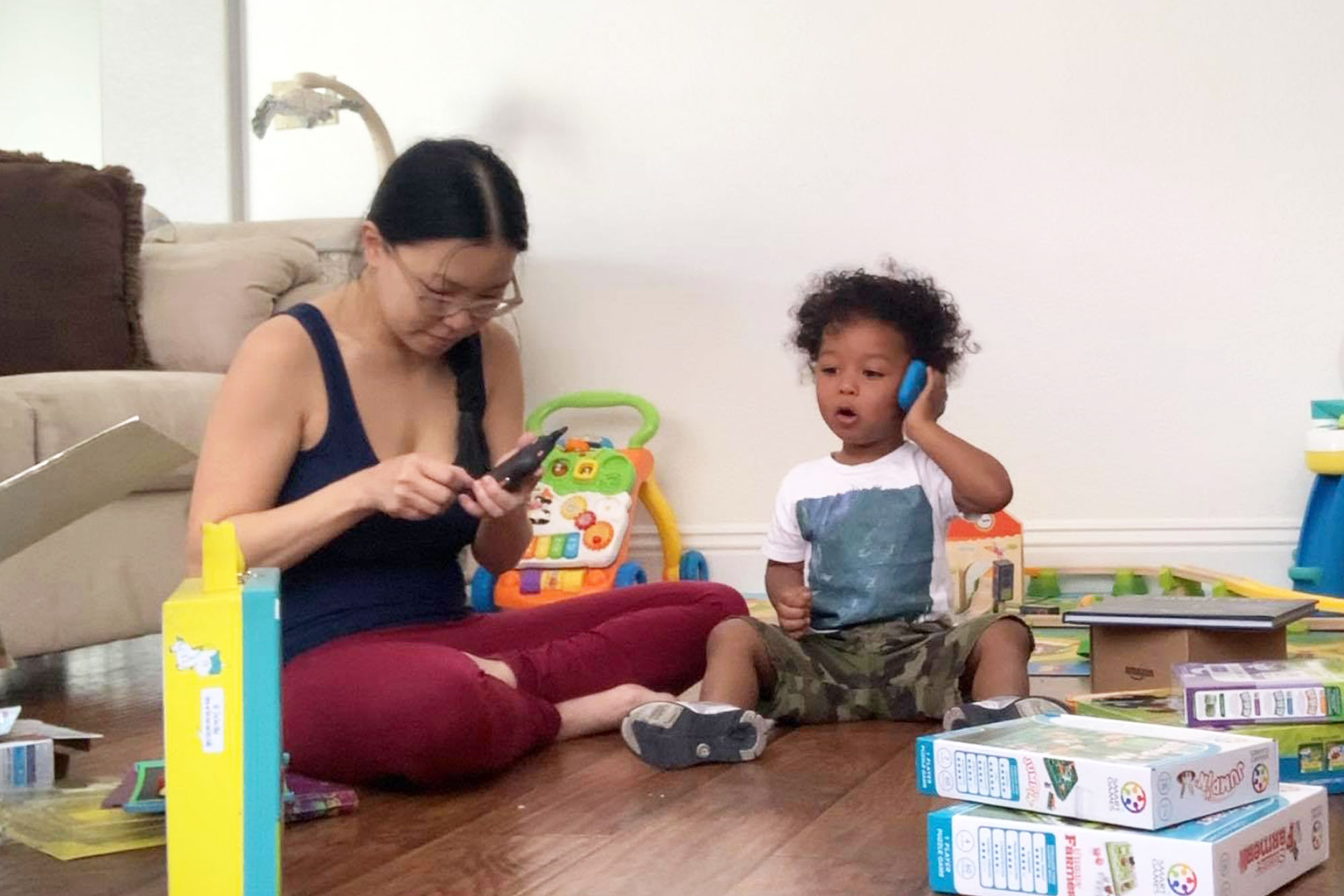 Affirmative. Loud and Clear. Roger. Over. Do any of these words sound familiar? It's one of the few well known Walkie-Talkie Lingo for military personnel, airplane pilots, police dispatchers, hunters, and so much more. As a military family, we find the KidiGoTM Walkie Talkies from VTech® a gem for taking our conversations and home adventures to the next level. It sparks the imagination while keeping kids' conversations secure, and even preventing other walkie-talkie users from listening in or chatting with them. Another plus to highlight is that it includes four two-player games for real-time gaming between devices.
VTech KidiGo Walkie Talkies:
LeapStart® 3D Learning System from LeapFrog®
Some of you may know this already, but our son Josiah had struggled to voice out his opinions and words. While his "speech-delay" was still borderline normal, being his mom, I can't help but feel sad that he isn't qualified for speech therapy. So I always make sure to keep looking for ways to help him thrive and improve his speech. The LeapFrog® LeapStart® 3D Learning System is one of our go-to options as it helps kids get excited about learning by combining real books with touch-and-talk games and 3D-like animations that magically bring activities to life.
For us, this is perfect as it is geared to visual or auditory learners. Touch and talk activities enhance learning with interactive animations to help kids build math, reading, problem-solving skills, and more. With the LeapStart 3D, kids can tap the pictures and words on every page with the stylus to engage with the activity books and enhance learning with amazing animations.
LeapFrog LeapStart 3D Learning System
LeapStart 2 Book Combo Pack: Math in Action and Toys Save the Day
VTech and LeapFrog launched a new campaign called "Learn Through This" where they offer resources to help parents, teachers, and kids during this unprecedented time. The website www.learnthroughthis.com assists in learning at home, gives access to free printable activity books and educational activities, plus features product recommendations, like the VTech® KidiGoTM Walkie Talkies and LeapFrog® LeapStart® 3D Learning System, that keep kids busy and make learning at home fun.
… and that's a wrap! I hope you all find this list helpful and entertaining. Feel free to share. Trust me. You have no idea how much parents need this right now. It might go unsaid, but another parent will surely be thankful for it.
For now, I am set to disconnect to enjoy some quality time with my little toy reviewer. He surely can't get enough of all his new boredom busters and keeps babbling about it! Until next post.
XOXO